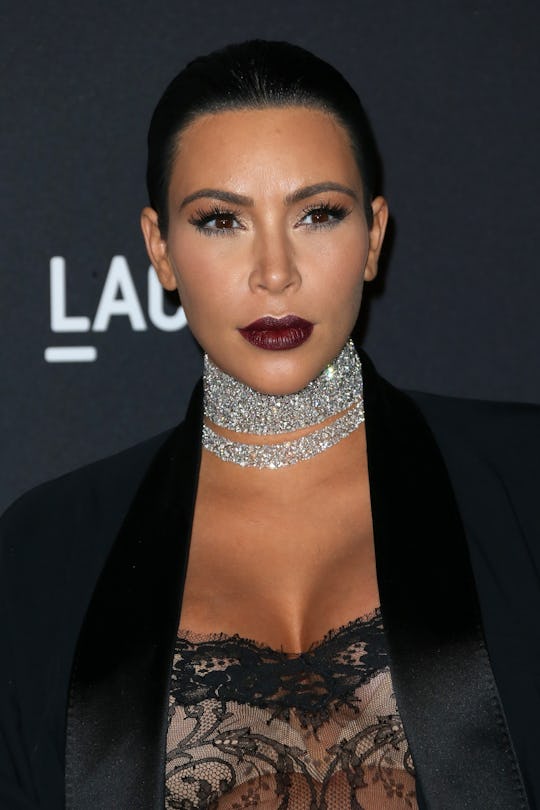 Frederick M. Brown/Getty Images Entertainment
This Amber Rose & Kim Kardashian Selfie Has People Completely Confused
Reality star Kim Kardashian West and model Amber Rose don't seem to have any bad feelings for each other after last week's epic, X-rated battle between rappers Kanye West and Wiz Khalifa. On Tuesday morning, Amber Rose and Kim Kardashian posed for a selfie possibly meant to show that the two had reached a peaceful reconciliation, according to Us Weekly. But, considering the ugly things said about both of them during the argument, fans on Twitter seemed to think the photo was just really awkward. Rose's totally NSFW comment (included below) to West during the feud is what makes the photo kind of cringeworthy.
The photo shows the pair of them in all black, pouting for the camera. Kardashian West posted the selfie on Instagram with the caption "Tea anyone?" Rose shared the same photo on her Instagram account with the caption, "Swingers." The snap might have been a totally innocent way of ending the feud between the four celebrities. But, considering everything that West had to say about Rose during the argument — and how Khalifa and Rose came back at West in the press — those captions have Twitter fans completely confused.
It all started last week when Kanye West attacked rapper Wiz Khalifa on Twitter after apparently mistaking Khalifa's use of the initials "KK" in a post on social media for a reference to West's wife, Kim Kardashian West. Khalifa had also called West out for renaming his album yet again. Khalifa said the album title, Waves, was a reference to a type of music performed by rapper Max B. Khalifa said West should've credited Max B. if he was going to use that name for the album.
The situation escalated when West took his legendary pettiness to epic proportions in a 30-tweet rant slamming everything from Khalifa's choice in album titles to his child with former model Amber Rose. And even though most of West's tweets have since been deleted from his profile, his rant lives on in Twitter memory — and a collection of screenshots available at Vox.
West then targeted Rose, who has had a child with Khalifa, by bringing up her past as a stripper. Not surprisingly, Amber Rose responded to West with a pretty sassy (and NSFW) tweet of her own:
Let's just say, things got very ugly very quickly. But that might all be over now if Kardashian West and Rose are hanging out together and posing for selfies. It isn't clear exactly how the two women have bonded — if it's over their adorable children, their success as social media stars, or the awkwardness of having to address their sexual past in the media.
It seems Kardashian West and Rose are looking to be the adults in this conversation. We can give them a round of applause for that, right?