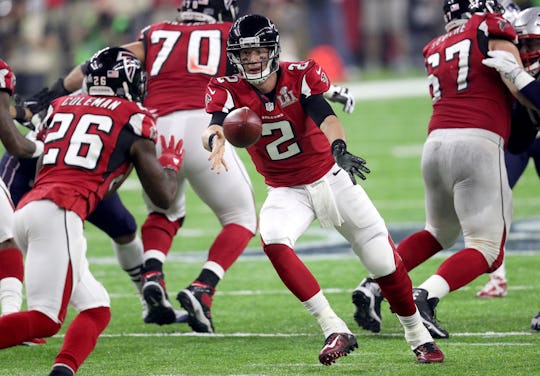 Patrick Smith/Getty Images Sport/Getty Images
This New Study May Make You Rethink Letting Your Kids Play Football
Becoming a parent means learning to make tough decisions regarding your children's wellbeing. Anything from what food you choose to feed them, to the other children you allow them to be around are all choices parents make that could have lasting impacts on their kids. And as kids get older, those decisions become even more complicated. For a lot of parents, deciding whether or not to let their kid play contact sports is a big issue. But now, this new study might make you rethink letting your kids play football at all.
According to the study, which is entitled, "Clinicopathological Evaluation of Chronic Traumatic Encephalopathy in Players of American Football," a large majority of former football players surveyed were diagnosed with chronic traumatic encephalopathy, or CTE. CTE is "brain degeneration likely caused by repeated head traumas," according to the Mayo Clinic, and its symptoms are "thought to include difficulties with thinking (cognition), physical problems, emotions and other behaviors."
Dr. Ann McKee, a neuroscientist at Boston University, led the study, which examined the brains of 202 former American football players who had donated their organs to science. Researchers found CTE in 177 of them. The largest percentage of CTE tendencies were found in National Football League (NFL) players, with 110 of the 111 brains observed diagnosed with CTE. However, there were still quite a few brains whose owners had only played football in high school, although those numbers were significantly lower.
Here's a full breakdown of the CTE findings, according to the study itself, which was published in the Journal of the American Medical Association:
3 of 14 high school (21%), 48 of 53 college (91%), 9 of 14 semiprofessional (64%), 7 of 8 Canadian Football League (88%), and 110 of 111 National Football League (99%) players [were affected by CTE].
While only 14 high school football players were studied, over 20 percent of them were diagnosed with CTE, meaning that the brain trauma that young athletes sustain from playing football for just a few short years can actually have life-long consequences. Of course, not everyone who plays football will end up with CTE, but the danger is still there.
And, as The New York Times and the Associated Press reported, one of the brains diagnosed belonged to Ollie Matson, a player who "died in 2011 at age 80 after being mostly bedridden with dementia." CTE is a degenerative brain disease that is known to cause significant memory loss, as well as a handful of other symptoms.
Obviously, the decision of whether or not to let a child play football is completely up to each kid's parents or guardians. However, this new study does provide definitive proof that the brutal contact sustained during football games and practice can be seriously dangerous. As McKee told The Times, "It is no longer debatable whether or not there is a problem in football — there is a problem."