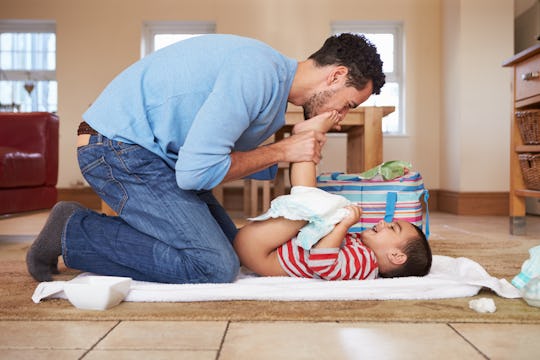 Fotolia
Dad's Viral Photo Portrays Exactly Why Men's Bathrooms Need Changing Tables
It should be common knowledge that it's not just moms who change babies' diapers. And yet, there are still too many signs in public areas that display the fact that changing tables are located in women's restrooms only, or that default to a sign showing a woman changing a baby's diaper. But this dad's viral photo reveals why men's bathrooms need changing tables, too, and why public facilities without them are woefully behind the times.
Donte Palmer's Instagram is all about his life with his wife and sons. And he shares a lot of moments from his life with his followers, including a recent moment in which he found himself in a men's bathroom without an appropriate changing table for one of his boys. Donte explained to Romper that he shared the photo, taken by his oldest son, Isaiah, with his wife. "My wife said, 'Wow, I never have to do things like that,'" he said. For Donte, that's when he realized the issue was completely out of hand.
In a photo from Sunday, Sept. 23, Palmer appears to be squatting in a bathroom, with his small son draped across his knees so that he can give the boy a diaper change. "Honestly, I've been in enough places that didn't have them, so now I don't even bother to look," Donte told Romper when we spoke with him via email about his viral photo. "If you notice in the picture how comfortable and content my son is, that should let you know how often it happens." However, just because this is a scenario both father and son deal with all the time, doesn't mean that it's right.
Palmer captioned the photo, "This is a serious post!!! What's the deal with not having changing tables in men's bathroom as if we don't exist!! #FLM #fatherslivesmatter." He then continued:
clearly we do this often because look how comfortable my son is. It's routine to him!!!! Let's fix this problem! I Kaepernick drop a knee to this issue! @theshaderoom let's show the innovation of fathers!
And it clearly struck a nerve. His original post had over 3,000 likes as of Tuesday afternoon, with a ton of comments from supporters. And before long, the Father.ly Instagram account picked it up.
"Men's rooms need changing tables too 🙌," the account captioned the photo, before reposting Palmer's initial comments from his post. That post had a little over 2,700 likes as of Tuesday, and people in the comments had similar feelings as those who replied to Palmer's first post.
Comments on the Father.ly post ranged from "For reals!" to "10000000% agree." And one comment pointed out, "Well said @3boys_1goal but let's also keep in mind how sexist and inconvenient this is for women. The assumption that this is mom's duty (🤷🏼‍♂️) is just wrong. #dadschangediaperstoo."
Before long, the viral photo made its way over to Reddit as well. Redditor mk4rim posted the original photo with the headline, "The struggle is real. Men's bathrooms need changing tables." On Tuesday afternoon, it was one of the top posts in the r/daddit Reddit forum, with nearly 500 "upvotes" and more than 50 comments before 5:00 p.m Eastern.
Obviously, this is an issue a lot of parents, particularly fathers, can relate to. The assumption shouldn't be that only moms and women change diapers, and public bathrooms should provide some way to change a child's diaper in women's rooms, men's bathrooms, and/or family restrooms where they're available.
Donte told Romper, "For a long time fathers have been looked at as being absent in our children's lives. Taking care of children has been a job deemed necessary for women. At times society complains about the presence of fathers not being involved, but in all actuality there are a ton of fathers willing to step up to the plate." He explained that that is the exact message he was trying to get out to the world by sharing his story, "bringing awareness" so fathers "can have fair and equitable rights."
On Oct. 7, 2016, President Obama signed into law the Bathrooms Accessible in Every Situation Act, or the BABIES Act. It's a piece of legislation that requires both men's and women's restrooms in "publicly accessible federal buildings" to have baby changing tables, according to The Huffington Post. At the time, Rep. David Cicilline — a Democrat representing Rhode Island who first introduced the bill — said in a statement, according to the outlet:
Government needs to do more to ensure that public buildings are family-friendly. No mom or dad should ever have to worry about finding a safe, sanitary place to change their baby ― least of all in a federal building that's paid for by taxpayers.
But even with great developments like that, clearly not enough is being done to combat this concern. Palmer and his son, along with all parents and their small children, shouldn't have to worry when they're out and about whether there'll be an appropriate place to change a diaper should the need arise. And as all parents know, the need does arise, sometimes when you least expect it and need a changing table the most.