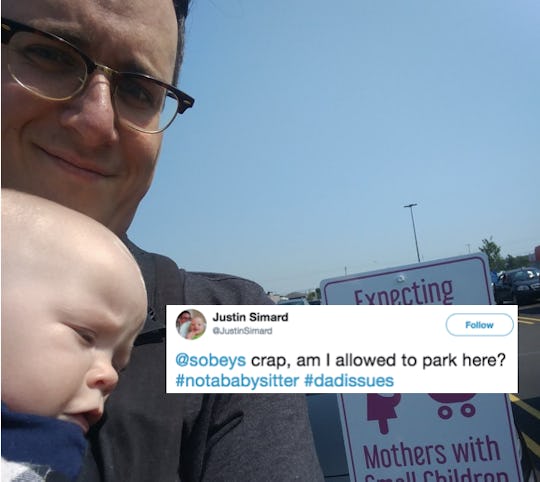 This Dad Called Out A Store's Sexist Sign Because Women Aren't The Only Ones Who Parent
I'm not going to lie to you, when my sons were little I was fiercely protective of those "Expectant mothers/mothers with small children" parking lots. If I happened to catch someone trying to park there without children... honestly, you don't even want to go there. But I always assumed those spots were for, like, anyone with kids. And thanks to this dad's viral post about a supermarket's sexist sign, I now see the error of my ways (although please note I wouldn't have attacked him for taking the spot).
Canadian dad Justin Simard was on Prince Edward Island looking to park at a Sobey's, a Canadian grocery store chain, when he noticed some seriously sexist signage. He was shopping with his infant son and came upon an empty parking spot with a sign that indicated the prime spot was designated for "Expecting Mothers" and "Mothers of Small Children." While Simard told HuffPost that he wasn't initially bothered by the implications behind the sign — like most parents he was pretty much just excited to find a spot close to the door — he started to reconsider. He explained to HuffPost:
When I went to get out of my car, the person in the spot next to me gave me a dirty look, which quickly vanished when I took my son out of his car seat. Then the wording of the sign bothered me. What about single fathers? What about same sex couples? It occurred to me that the sign could be more inclusive.
Simard snapped a picture of himself with his baby son in front of the sign with the question, "crap, am I allowed to park here? #notababysitter #dadissues."
And really, I mean... he's right. It is 2017, why are stores making the ridiculous (and clearly incorrect) assumption that moms are the only people who might have a small child with them while running errands? As Simard pointed out to Yahoo:
This little guy is kind of heavy. And in the winter, in the snow or the rain, you don't really want to be walking very far with an infant. It just seems a little silly that it's gendered in that way. I know that as a man, it's weird to be complaining about a sexist policy — I get that. But what about two parents that are fathers? It's not inclusive.
Happily, Sobey's was quick to respond to Simard's post. And it agreed wholeheartedly that the signage needed some serious updating. See the exchange below:
A spokesperson for Sobey's told The Canadian Press that the stores would be looking into updating the signs. It's a step in the right direction as far as Simard is concerned; a step towards acknowledging that raising children is not the sole providence of women. He told the newspaper:
My hope is that the sign was simply an echo of a thoughtless sexism that insists that raising children is "women's work," and that people will realize that raising children is "parent's work."
Indeed it is.