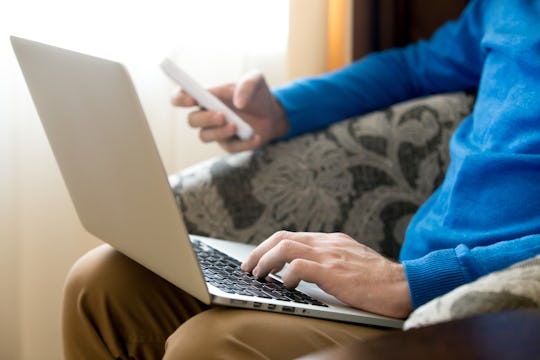 Freepik
This Husband Wrote A Beautiful Note To His "Defeated" Wife, & It Shows How Hard Moms Work
After a really long day with her sons, ages 2 and 5, mom Kate Douglas posted to Facebook that she was feeling defeated, and that her kids "had won" — a feeling many moms probably know well. But after she left the house to get a break, her husband wrote a beautiful note to his "defeated" wife — and it shows just how hard moms work and reminds us all to appreciate all that they do.
Douglas' husband, Scott, took to Facebook to praise his wife's hard work and remind her how appreciated she is.
After a hard day at work there is nothing better than clocking off. Some days I get home and see my beautiful wife worn out, tired, frustrated and overwhelmed by the challenges of being a mum. Unlike me she has no set hour to clock off or rewarded with overtime or bonuses for all the extra work and effort she has put in during the day. She doesn't accumulate sick leave, Annual leave or long service, no weekly supper or weekend, no looking forward to a public holiday to shorten her week.
On 3-5-11 she clocked onto being a mum, on 6-8-14 she started her overtime shift. 2 boys, 2 boys that never stop, that challenges every aspect of being a mother, she has never asked for a pay raise or looked for another job. So even though today was hard and you feel unappreciated or unsure if you made a difference in their lives this is how your day really went …
Your sons woke from their nice warm beds that have been lovingly washed and made by you. They ate breakfast that was organized a week ago when you wrote out the shopping list. You packed a lunchbox for 1 to go to daycare which you questioned "is it healthy enough, will he still be hungry' whilst balancing another on your leg, arm, shoulders. You dropped off at daycare where you sat for an hour comforting him because he was having a bad day, letting him know mum will always be there.
You returned home where you spent a day with a 2 year old, holding conversations and toilet training, teaching him how to make his way from toddler to a big boy. You put him down in his bed for a nap making sure he had enough energy to make it through the rest of the day, despite knowing you don't. You spent your limited time between resting, house work, house work, and house work. After all this and little rest you picked up from daycare where you took them to appointments, making sure they are as healthy as can be, Made sure they had dinner, had your first adult chat at dinner, the whole time still being a mum and solving the worlds issues.
So when you see a bad day, I see an amazing women who never calls in sick, never quits, never turns her back on the hard days and who has the power to go to bed knowing it will happen all again tomorrow, You are an amazing and fabulous mother, Even though it doesn't seem like it, you are the greatest thing in these boys lives and we love you, for everything you do.
Douglas shared her husband's heartwarming post, adding "ALL queens need to know they are appreciated!", according to ABC News. The post went viral, and has more than 54,000 likes and more than 11,000 shares. Douglas and her family live in Australia, and she told ABC News that the post made her "very emotional" and "was just what I needed to hear at that moment."
Many comments on the post made Douglas feel particularly lucky, since many moms indicated that they didn't feel as appreciated by their spouses. Scott told ABC News that he wasn't surprised the post resonated with moms all over the world, adding "When a bad day comes along they question themselves. I think with what I wrote has let them know they are not alone by having those days but also there are positives in those days, and to be appreciated for the bad days is very rewarding for them too."