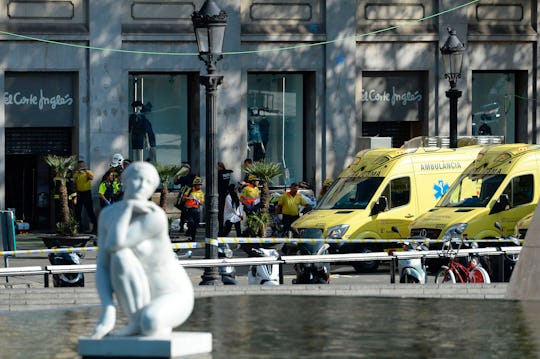 JOSEP LAGO/AFP/Getty Images
This Map Of Barcelona Shows A Popular Area Was Targeted
On Thursday, a van crashed into a crowd of people in Barcelona, Spain, according to the Los Angeles Times. Although initial reports weren't sure where the crash exactly happened, this map of Barcelona shows the van crash occurred in the popular tourist spot of Las Ramblas. According to The Telegraph, Las Ramblas is a "busy tree-lined promenade in the center of the city" and it's a popular spot for tourists. According to BuzzFeed News, the crash took place on the corner of La Rambla and Plaza de Catalunya.
UPDATE: According to the Associated Press, police in Spain are calling the crash a terror attack, and 13 people have reportedly been killed.
PREVIOUSLY: According to multiple reports, two people have been killed in the attack while an unconfirmed amount of people have been injured. Government officials have yet to confirm the crash as an act of terrorism, but Catalonian police are investigating it as a terrorist attack. According to CNN, two men drove the van into a group of people hanging out in a packed area of the promenade, and the armed suspects were allegedly holding hostages in a local bar called "Luna de Istanbul."
Considering many tourists travel during the summer months, it's likely the Las Ramblas area was teeming with people at the time of the attack. According to Statista, about 9 million tourists visited Barcelona in 2016. Furthermore, Las Ramblas is often cited as a top destination for visiting tourists. Barcelona Tourist Guide described it as "the central most boulevard which cuts through the heart of the city centre and is a vibrant and lively promenade." Many tourists like to visit the Liceu Theatre and the Palace of Virreina.
Unfortunately, it looks like the terrorists chose the Las Ramblas area due to its popularity. It's also telling that the terrorists attacked the spot during a high-traffic time of the day — many restaurants were at full capacity at the time of the crash. Even more disturbing is that this type of attack has occurred many times across Europe throughout the past few years.
In 2016, a terrorist killed 80 people in Nice, France, when he drove a truck into a crowd celebrating Bastille Day, according to Newsweek. That same year, a tractor trailer drove into a packed market in Berlin, Germany, during Christmastime. The terror attack killed 12 people, according to KTLA. Most recently as April, a terrorist drove a hijacked truck into crowds congregating in front of a popular department store in Sweden, killing five people, according to the New York Times.
Although Catalonian police are still trying to make sense of what's going on in Las Ramblas, one thing is for certain — terrorists are attacking popular tourist destinations to spark fear in people across the globe.