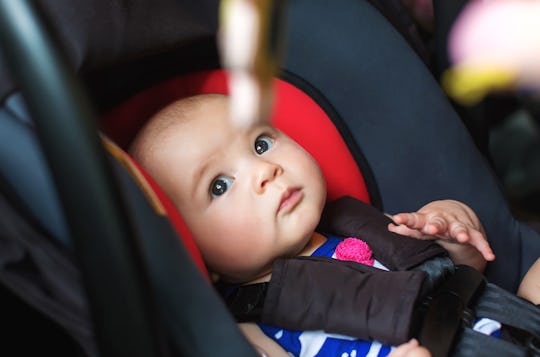 Fotolia
Mom Faces Homicide Charges Because Her Baby's Car Seat Wasn't Properly Secured
Losing a child is a parent's worst nightmare, but for one grieving Louisiana mother, things just got even worse. The Baton Rouge mom faces homicide charges because her baby's car seat wasn't properly secured. Brittany Stephens, 20, wasn't at fault in the car crash that sent nine people to the hospital back in October. She wasn't even driving. But police spokesman Sgt. L'Jean McKneely told The Advocate that she was arrested because she "was the person responsible for the buckling of the car seat." In addition to a seat belt violation, she was also arrested on one count of negligent homicide.
This is the most glaring case in recent memory of society pinning blame on a mother over larger, external factors like, say, a cop speeding at 94 miles per hour, per police reports, or a lack of education and resources around car seat installation and use (you can go to your local fire department to have it fitted, but not all fire fighters are certified technicians).
An estimated 5 percent of parents use infant car seats without making any mistakes, according to a study published in the Journal of Pediatrics. Put another way, 95 percent of parents make a mistake in how they strap their children into their car seat. So all of us, at one time or another.
And to be fair, this wasn't simply a case of loose straps. Police said Stephens and her 1-year-old daughter, Seyaira, were among four adults and four children traveling in a five-seat Nissan SUV that night. Police spokesman Sgt. Don Coppola Jr. said the car seat was "on top of the center console, wedged between the front passenger seat and the driver's seat," The Advocate reported. Nobody was wearing a seat belt, police say. The driver and the other two adults were also cited for seat-belt violations, but are not being held responsible for Seyaira's death. Stephens' arrest report said that "lack of securing the seat to the vehicle and the loose straps ... show gross negligence," which contributed to the child's injuries.
The SUV was making a left turn on a green light when a Corvette driven by an off-duty Baton Rouge police officer, Christopher Manuel, plowed into the passenger side at 94 miles per hour, police say. The SUV was flipped over, and all nine people involved in the accident were taken to the hospital, with two in critical condition. One of them was Seyaira, who died from her injuries two weeks later, according to WBTV. A blood test showed Manuel was not impaired at the time.
Manuel was arrested Feb. 16 on one count each of negligent homicide and speeding, and he posted $15,000 bail and was released from jail the same day. He's now on paid administrative leave pending an upcoming hearing, when the police chief will determine whether to relieve him from duty, or take some other disciplinary action. Stephens was arrested on Feb. 27, posted $3,600 bond, and was released the next morning, according to The Advocate. East Baton Rouge District Attorney Hillar Moore III said his office has not determined whether to charge either party, as they haven't received the relevant reports yet.
Manuel's attorney Ron Johnson told The Advocate that he's confident that his client will be "vindicated." He acknowledged that speed was a factor in the accident, but said it hasn't been determined if it "played a role in the death of the minor." He also said that turning left is "one of the most dangerous driving maneuvers" and that someone shouldn't turn unless they're "absolutely sure it's safe." I'll hold your purse while you go punch a wall, if you like.
Parenting brings with it the responsibility of a child's wellbeing, and parents do make fatal mistakes from time to time. There are the driveway deaths, mistakes made with the sleeping environment, and the unbearable deaths of children left in hot cars. As the Washington Post reported in a deep dive on the issue in 2009, parents are rarely charged in those deaths:
According to statistics compiled by a national childs' safety advocacy group, in about 40 percent of cases authorities examine the evidence, determine that the child's death was a terrible accident — a mistake of memory that delivers a lifelong sentence of guilt far greater than any a judge or jury could mete out — and file no charges.
In 2009, Spokane mom Eileen Jensen was charged with vehicular homicide three years after the death of her daughter, Chloe. Jensen had Chloe's car seat strapped in the front seat when she rear-ended a minivan, causing the air bag to deploy, according to KXLY. A judge dropped the criminal case against her in 2011, citing lack of evidence.
Experts are questioning why Stephens was arrested in the first place, The Advocate reported. State Rep. C. Denise Marcelle said she's "in shock to see that they would do this. She already lost a child. I just think that unless I'm missing something, I'm seriously concerned about it." LSU criminal law professor Ken Levy said it was "unnecessary if not mean spirited" to punish Stephens. "It's very sad that a child died, but that doesn't mean that you go and punish as many people as possible for child's death. The principal culprit here is the officer."
Former First Assistant District Attorney Prem Burns told the Advocate the arrest was legally questionable. "When you compare somebody traveling 90 miles an hour striking that vehicle, who's willing to say that baby could have survived anything?"
Check out Romper's new video series, Bearing The Motherload, where disagreeing parents from different sides of an issue sit down with a mediator and talk about how to support (and not judge) each other's parenting perspectives. New episodes air Mondays on Facebook.