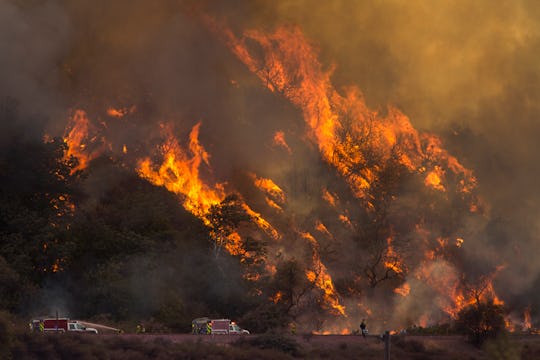 David McNew/Getty Images News/Getty Images
This Mom Called Her Kids To Say Goodbye While Trapped In The California Wildfire
As more and more harrowing stories surface about people fleeing the wildfires in California, I can't help but put myself in their shoes and wonder: What would I do if something like this happened to me? The thought of smothering walls of flames and smoke quickly descending on hospitals, neighborhoods, and entire towns is simply unfathomable. Yet, hundreds of thousands California residents have done just this within the past couple of weeks. And this mom's goodbye call to her kids while trapped in the California wildfire will bring you to tears.
Tamara Ferguson, 42, was working at Feather River Hospital in Paradise, California, as a nurse when the evacuation orders came in, according to People. The nurse's shift was technically over. However, she stayed for 45 minutes to help evacuate dozens of patients. By the time Ferguson was in the back of an ambulance to escape the Camp Fire, her group was only about to make it about a mile before flames forced them to stop. Ferguson, medical personnel, and patients then had no choice but to take shelter in the garage of a home nearby.
According to the Los Angeles Times, a firefighter arrived and explained they were trapped within a ring of fire. The situation was looking pretty hopeless. That's when Ferguson called her children to tell them she wouldn't be coming home. The mom of five called her eldest daughter, 24, and then her second-eldest daughter, 22 with a heartbreaking message:
I'm trapped in the fire. It's all around me. I love you. Take care of Brayden and Allyson and Brooklyn. Make sure they know how much I loved them.
As the L.A. Times reported, both daughters' reactions were about the same, "No, no, no, you're going to make it out. You're fine, you're fine. You will be OK." Ferguson and her daughters both cried. But the mom of five continued to make clear her dire situation.
No, you don't understand. I'm not going to make it. I was the best mother I could be. I'm sorry for the mistakes I made. I'm so sorry.
However, as People reported, the firefighter from before returned and started giving orders to Ferguson's group. They wet the roof and fence with water, and then cleared the area around the home. Ultimately, they were able to make it back to the hospital — which had partially burned — and then caravan to another, safe location. Although Ferguson was positive she wouldn't make it out of the Camp Fire alive, she was able to make it home and see her five children again.
*Finally exhales*
I'm not crying, you're crying.
In case you've lost track of the progress, as of Wednesday night, the Camp Fire was 85 percent contained, according to the San Fransisco Chronicle. Unfortunately, the confirmed death toll in what is now the state's most destructive and most deadly wildfire is now up to 83 — with about 563 people still unaccounted for.
I can't even begin to imagine what it was like for Ferguson — and her two oldest daughters — on that terrifying day. No one ever thinks they'll have to make or receive a phone call like that. And the relief they all must have felt once they were finally reunited? I have a feeling Ferguson and her children have never felt as thankful as they do this Thanksgiving Day.