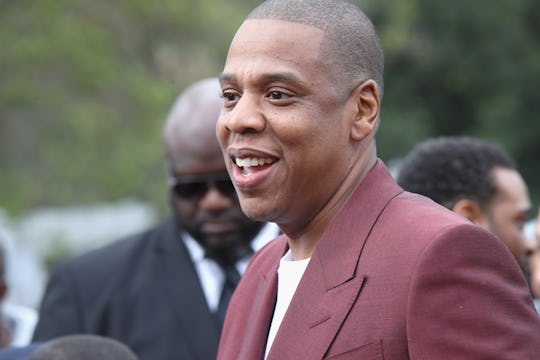 Ari Perilstein/Getty Images Entertainment/Getty Images
This One Lyric From '4:44' Is Beautiful
On Friday, on the heels of his induction to the Songwriters Hall of Fame and the birth of his twins, JAY-Z released his newest album, 4:44 — and it's already reaping praise from critics and fans. Several songs refer to his children and his rumored infidelity scandals, but the album does more than just fuel fans' curiosity about who the supposed "Becky with the good hair" is. JAY-Z goes so much further than that, and this one lyric from 4:44 is a beautiful glimpse at his relationship with his mom and her journey to come out as a lesbian.
When you look at the song as a whole, "Smile" describes the way enduring hardships can make a person appreciate the good times so much more. As JAY-Z told iHeartRadio:
'Smile' is just what it is. There are gonna be bad times, and those bad times can do two things: they can get you in a place where you're stuck in a rut, or it can make your future that much better because you've experienced these things.
However, the lyrics that talk about JAY-Z's mom, Gloria Carter, are a powerful testament to the close relationship the two Carters share and provide a short but emotional glimpse at the effects of keeping a large part of one's identity secret.
Mama had four kids, but she's a lesbian
Had to pretend so long that she's a thespian
Had to hide in the closet, so she medicate
Society shame and the pain was too much to take
Cried tears of joy when you fell in love
Don't matter to me if it's a him or her
I just wanna see you smile through all the hate
Marie Antoinette, baby, let 'em eat cake
The song then goes off in other directions — to talk about TIDAL and growing up — but the story shared by JAY-Z is amplified by Gloria Carter's own spoken word poetry, which comes in at the end of the song:
Living in the shadow
Can you imagine what kind of life it is to live?
In the shadows people see you as happy and free
Because that's what you want them to see
Living two lives, happy, but not free
You live in the shadows for fear of someone hurting your family or the person you love
The world is changing and they say it's time to be free
But you live with the fear of just being me
Living in the shadow feels like the safe place to be
No harm for them, no harm for me
But life is short, and it's time to be free
Love who you love, because life isn't guaranteed
JAY-Z has always expressed support for the LGBTQ community, but "Smile" takes things a step further. Not only does he share a personal, touching mother-son story, but the entire song is also an anthem rooted in uplifting, positive defiance. In a year in which Pride Month supporters have been forced to ask, "Should pride be a celebration or a protest?" fans are here for that now more than ever.