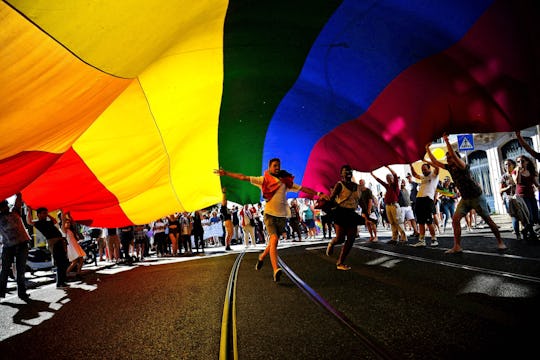 PATRICIA DE MELO MOREIRA/AFP/Getty Images
This One Same-Sex Marriage Tweet Shows Why The June 26 SCOTUS Ruling Was So Important
It has officially been one year since the Supreme Court of the United States ruled to legalize gay marriage in all 50 states, on June 26, 2015. While so much has changed in one year and while there is still so much progress and change to be made, the ruling was a historic moment in the fight for equality, as it made a powerful statement to the rest of the world. As pride celebrations across the country celebrate the moment, this one same-sex marriage tweet — along with several other similar tweets from the month of June — shows why that SCOTUS ruling was such an important one.
Over the month of June, all across the country, people have been celebrating Pride Month — but this year, they have extra reasons for doing so. The first is to honor and recognize the lives of those lost at the LGBTQ nightclub, Pulse, in Orlando, Florida two weeks ago. The second reason is to celebrate the one year anniversary of the historical supreme court ruling, which changed the way that LGBT individuals would be able to live their lives forever in the United States.
For a group of individuals, that fought — and continue to fight — so hard for their rights, this SCOTUS decision was truly momentous. On Sunday, one Twitter account posted an appropriately touching tribute, while reinforcing a very important point. "Today marks 1 year since the Supreme Court legalized same-sex marriage," Towson University's Black Student Union wrote. "However, the fight is not over."
It was a crucial reminder to anyone who may have grown comfortable in the celebrations. Because while it's vital that we recognize how far we've come, it's also good to know that there's still work to do.
That doesn't mean you can't enjoy a few emotional or joyful posts on the day though — take the following for example:
Many have taken to Twitter to personally recognize just how much the ruling changed their lives:
June 26 in particular is about recognizing the LGBTQ community, as well as the courage of those who finally felt comfortable enough to come out. It is about President Obama's decision — and all those LGBTQ leaders who fought hard for it — to recognize the first national monument celebrating the LGBT community.
The June 26 SCOTUS ruling was so important because love won. As made clear with the #LoveWins on Twitter, the ruling wasn't about what people looked like or who they were. At the end of the day, it was about love and at the end of the day, that was what mattered.
Love wins because love doesn't discriminate. It is about thinking with hearts and fighting for what it tells you to do. No one should be able to tell anyone who they can or cannot love. That is why love wins.
With work still ahead, everyone — not just the LGBTQ community — should remember to keep pushing for equality in all spheres. The United States has come far. It's time to take it one step further.