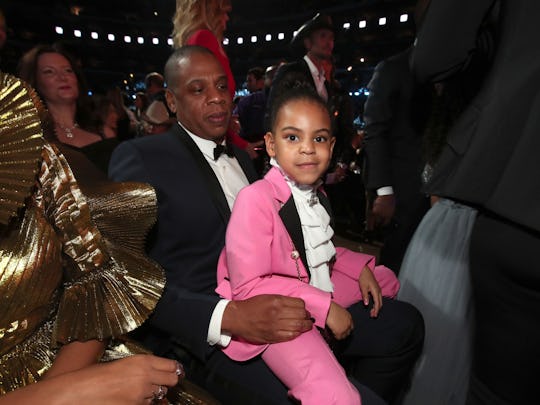 Christopher Polk/Getty Images Entertainment/Getty Images
This Rumor About Blue Ivy & The Twins Is The Best
Beyoncé gave birth to twins in June, and though details about the new babies have been scant, the entertainment world and Beyoncé's Beyhive have been anxiously awaiting updates ever since. Well, now we have another one. Beyoncé's mom, Tina Knowles Lawson, reportedly told Entertainment Tonight more about the babies and how Blue Ivy is taking to her new role as big sister. and this rumor about Blue Ivy's big sister skills is really sweet.
ET talked to Beyoncé's mom at the 19th Annual DesignCare hosted by the Hollyrod Foundation in Los Angeles on Saturday, and she revealed some very cute details about Blue Ivy's skills as a big sister.
According to Knowles Lawson, Blue Ivy has also taken her new role as big sister in stride in a big way. She told Entertainment Tonight:
She's very proud and very excited. She's a good big sister, she really is.
And Tina's husband, Richard Lawson, added:
She cares for them a lot.
It sounds like so far, Blue Ivy hasn't had a negative reaction to the twins, who are likely receiving most of their parents' attention (for good reason). Quite the contrary, actually. It sounds like she's really enjoying her important new job as a big sister.
Knowles Lawson also told Access Hollywood that Blue Ivy got exactly what she wanted in her new twin siblings. In the clip above and on the Access Hollywood website, Knowles Lawson told the interviewer:
Well Blue prayed for a brother and a sister, so, she takes full credit for having twins. She said it. She said, 'these are my babies.'
Which is really, really cute, to say the least.
Beyoncé and JAY-Z welcomed their twins in June, and Beyoncé recently posted the first public photo of the babies to her Instagram on what she implied was the one-month anniversary of their birth. So Blue has had that time to get use to having the babies around, and if she's not sick of them yet, that's a good sign.
The photo was captioned, "Sir Carter and Rumi 1 month today. 🙏🏽❤️👨🏽👩🏽👧🏽👶🏾👶🏾," and also served to announce the names of the twins to the world. People were a little confused at first over whether their names were Sir Carter Carter and Rumi Carter or just Sir Carter and Rumi Carter, but Nana Tina cleared up that up as well. She wrote on her own Instagram post where she re-posted the photo of her daughter with her grandbabies:
So Happy my baby shared a photo of her babies with the world ❤️❤️❤️proud grandma hello Sir Carter and Rumi Carter❤️🙏🏾❤️ Boy and girl what a blessing ❤️.
People have had mixed feelings about the names, but is it any wonder that Beyoncé and JAY-Z made such unique choices, after their first daughter was named Blue Ivy?
So it sounds like Blue isn't just adjusting to having siblings around and being good about their presence — she's totally thrilled to be a big sister. Hollywood Life reported that a source close to Beyoncé revealed, "Blue is in heaven!" The source reportedly told the outlet:
She is loving being a big sister, and although the twins are still a little too small for her to have much hands-on contact with them, she loves watching them, kissing them, and talking to them.
Can she get any cuter?
Congratulations are in order not just for the twins' parents, but for Blue as well. Being a big sister is a big job, but one that it sounds like she's more than ready for.