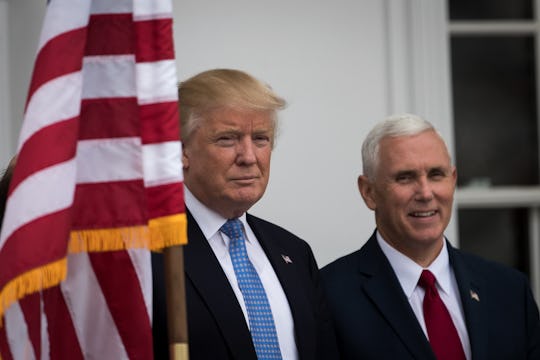 Drew Angerer/Getty Images News/Getty Images
This SCOTUS Case Will Be A Huge Deal If Trump's Deportation Plan Becomes A Reality
On Wednesday, the US Supreme Court heard oral arguments from the American Civil Liberties Union, arguing for due process for immigrants in long-term detention centers. Immigration is an extremely important topic, and this SCOTUS case will be a huge deal if President-elect Donald Trump's deportation plan becomes a reality.
The ACLU filed a class action lawsuit regarding case, Jennings v. Rodriguez. In 2015 the U.S. Court of Appeals for the 9th Circuit in California decided that all immigrants would receive bond hearings within six months of being detained, but the Obama administration appealed the ruling, which led it to be reviewed by SCOTUS.
In Jennings V. Rodriguez, the ACLU argues that immigrants are often detained for months or years without being given the opportunity for bond hearings. In a post published on Monday, Michael Tan, a staff attorney for the ACLU wrote:
...The Supreme Court has long held that the right to an individualized hearing is a bedrock due process requirement for civil detention. Criminal defendants, sex offenders, the mentally ill, and other detainees all must receive a hearing to determine if their incarceration is justified...
Tan also argues that thousands of people detained in detention centers include people with green cards, and aslyum seekers.
President-elect Trump has made harsh immigration policies a priority throughout his campaign. He has promised to deport some 2 to 3 million immigrants who have committed crimes – but as The New York Times reported, that number doesn't exactly add up. According to research by The Migration Policy Institute, there are actually approximately 820,000 unauthorized immigrants that have been convicted of crimes. And of this number, as CNN cited, the institute found that 300,000 had felony convictions, and 390,000 were convicted of serious misdemeanors.
But nonetheless, Trump's plan for mass deportations could gravely affect immigrants who have been detained for months or years without having a bond hearing.
Rachel Levenson, a student advocate in the Immigrant Rights Clinic at NYU School of Law, explained to NBC News why the Jennings vs. Rodriguez case is an important case for equal rights. "There is a fundamental value in this country that people should not be locked up and the key thrown away without a judge even looking at their case," Levenson said. "People have a right to their day in court."
Considering the wide-ranging reasons why reasons why immigrants, permanent residents, or or aslyum seekers, enter detention centers, the ACLU argues that all detainees have rights to a hearing.
Correction: This article previously said Rachel Levenson represents the Immigrant Rights Project at New York University's law school, but she is actually a student advocate in the Immigrant Rights Clinic at NYU School of Law. The article has been corrected to reflect this information. Romper regrets the error.