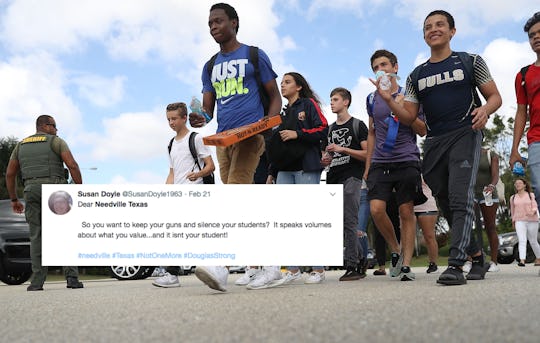 Joe Raedle/Getty Images News/Getty Images
Should Schools Have The Right To Punish Students For Protesting Gun Violence?
On Wednesday, kids in dozens of schools across the country marched in solidarity with the students of Marjory Stoneman Douglas High School in Parkland, Florida, where 17 people were killed last week. But before you get any ideas, check out your local district's stance, because one Texas school will suspend anyone who walks out to protest gun violence. Superintendent Curtis Rhodes, who heads the Needville Independent School District, warned students about the policy on Facebook, according to ABC News. "Life is all about choices and every choice has a consequence whether it be positive or negative," Rhodes wrote. Ironically, the post was later deleted.
"Needville ISD will not allow a student demonstration during school hours for any type of protest or awareness," the post read, and anyone participating in a political protest would be disciplined "no matter if it is one, fifty, or five hundred students involved." Rhodes characterized walkouts as a "disruption," explaining that "school is a place to learn and grow educationally, emotionally and morally." Of course, one might argue that learning about peaceful protest and exacting social progress is educational, and that turning a blind eye to gun violence is immoral. Rhodes did not immediately reply to Romper's request for comment.
This isn't the first time that Rhodes and Needville ISD have gone up against students' freedom of expression; in 2008, the district was sued by the American Civil Liberties Union for keeping a 5-year-old Native American student out of kindergarten for having long hair. According to the Houston Press, the child, who is of Apache descent, wore braids as an expression of his religious beliefs. "It's no secret what our policy is," Rhodes told the paper in 2009. "You'll cut your hair to the right point. You'll tuck in your shirt. You'll have a belt. There's a lot of school districts that have lost their discipline and all their beliefs. Needville's pretty tight about that, they're pretty tight about the traditions they have." A federal judge ruled in favor of the student. The district appealed, and nearly two years after the original suit was filed, the ruling was upheld.
There are certainly differences between the two issues, however. While there are no negative consequences to having a particular hairstyle, walking out of class could conceivably disrupt the education of other students. But this isn't a matter of disrupting class for the sake of disruption; Needville High School junior Maddy Lambright told ABC she and her classmates wanted to honor the victims of the Parkland shooting. She went to the principal to ask permission to walk out 17 minutes before the end of the school day, to symbolize the 17 people who lost their lives. The principal announced his response on the intercom: "If you walk out, keep walking."
"These 17 people deserve this," Lambright told ABC. "They deserve a big walkout, a moment of silence for them. They deserve it, you know? They didn't deserve to die." With all the time schools waste on the Pledge of Allegiance, unconstitutional Christian evangelism, and abstinence-only education, skipping out on half of last period to pay respect to the teachers and students who were senselessly slaughtered in their school last week doesn't seem like a lot to ask.
Typically, a school walkout isn't planned with the blessing of the administration, though. It's a protest, a form of civil disobedience, and when one intentionally disobeys the rules, shouldn't they expect to be punished? Needville High School's student handbook classifies leaving campus without permission as a "Level II Infraction" (the same as smoking, cheating, kissing, or using racial slurs), and states that it's punishable by one day of in-school suspension for each period missed, although it notes that consequences for any type of misconduct may be greater "depending on the severity of the offense." Is standing up for your beliefs really that severe, though? Apparently it is in Needville.
Check out Romper's new video series, Romper's Doula Diaries:
Watch full episodes of Romper's Doula Diaries on Facebook Watch.