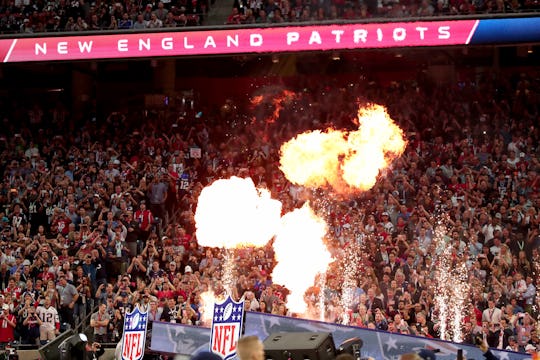 Christopher Polk/Getty Images Entertainment/Getty Images
The Most Eye-Opening Tweet About Super Bowl 51 Ads
There was a lot of speculation ahead of Super Bowl LI about the nature of the ads that would be shown. In fact, some people were worried that they would become "attack ads" against President Trump and his new administration. They were worries that these "protest ads" that might speak to his recent travel ban, his immigration stance... essentially any decision he might make. But this one tweet about Super Bowl LI acts as a powerful reminder that ads targeting regular human decency aren't political. They're relatable.
Take the recent Budweiser commercial, for instance. The ad, "Born The Hard Way," was released ahead of Super Bowl LI and featured the story of German immigrant (and co-founder of Anheuser-Busch) Adolphus Busch's journey to America. When he arrives, he is greeted with shouts of "Go home!" and "You're not wanted here!" He perseveres, meets his future business partner, Eberhard Anheuser, and — boom — history (and a touching commercial) made. And for some reason, President Trump supporters found this uplifting commercial so abhorrent and offensive that many decided to boycott Budweiser. Despite the fact that Anheuser-Busch vice president of marketing Marcel Marcondes told The Washington Post:
We created the Budweiser commercial to highlight the ambition of our founder, Adolphus Busch, and his unrelenting pursuit of the American dream. This is a story about our heritage and the uncompromising commitment that goes into brewing our beer. It's an idea we've been developing along with our creative agency for nearly a year.
Somehow for Trump supporters this:
Turned into this:
Other Super Bowl ads supported the spirit of inclusion, and in some cases, the move towards a multicultural theme was a deliberate response to Trump's recent travel ban (which was recently overturned by a Washington state judge, according to CNN). Airbnb, one of the more vocal critics of Trump's immigration executive order which sought to temporarily ban immigration from seven Muslim-majority countries, created a moving, beautiful ad dedicated to inclusion.
But when did ads celebrating love and inclusion become reactionary, and politicized?
Pittsburgh-based company 84 Lumber created an ad about immigration, and it was considered so controversial by the Fox Network that the building materials supplier was asked to adjust it because it featured a border wall between Mexico and the United States.
The company issued a statement about the ad and its intention to attract diverse employees that read in part:
84 Lumber's Super Bowl spot is the launch of a national recruiting campaign for the company's management training program. The campaign is targeting males' ages 20 to 29 that want to take control of their careers and embody the entrepreneurial spirit that runs rampant at 84 Lumber.
Instead, it was cut off early during the Super Bowl, and people were directed to watch it on the company's website. Which promptly crashed from an overload of traffic.
Which I think says something sort of beautiful about us human beings, and our need for basic human decency.
All is not lost.