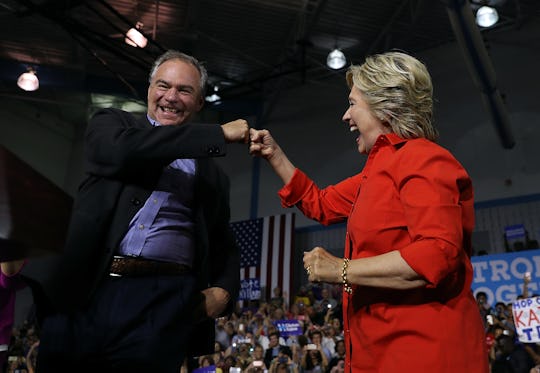 Justin Sullivan/Getty Images News/Getty Images
Tim Kaine's Quotes On Women & Moms Paint Him As Supportive
Ever since former Secretary of State Hillary Clinton announced she'd chosen him as her vice presidential pick, people have been trying to figure out where Virginia Sen. Tim Kaine stands on the issues. When it comes to women's issues, there have been many questions about whether his former anti-choice stances have evolved now that he's running alongside a pro-choice candidate. When it comes to other political issues that impact not just women, but parents, Tim Kaine's comments on mothers show that his views have evolved over time — he really appreciates his own mother, and values the work of his wife, Anne.
Kaine has spent most of his life in public service, working as a governor, a mayor, and a senator. Now, alongside Clinton, he's vying to add vice president to his long list of offices held. Kaine's originally from St. Paul, Minnesota, and is the oldest of three children. His father owned a union-iron shop and his mother taught home economics and took care of the family. Kaine married his wife, Anne Holton, in 1983 and they have three children.
Although Kaine has spoken out about his faith-based opposition to abortion and has supported abstinence-only education in the past, he has also gone on record as saying that he would not be in favor of repealing Roe v. Wade, which decriminalized abortion in 1973:
I strongly support the right of women to make their own health and reproductive decisions and, for that reason, will oppose efforts to weaken or subvert the basic holding of Roe v. Wade. We all share the goal of reducing unwanted pregnancies and abortions. The right way to do this is through education and access to health care and contraception rather than criminalizing women's reproductive decisions.
Planned Parenthood gave Kaine a 100 percent score on its assessment of his voting record for women's reproductive rights, showing that even if he has personal beliefs that would preclude supporting abortion, they don't seem to influence his most recent votes.
When questioned about his personal beliefs, Kaine told CNN:
I have a traditional Catholic personal position, but I am very strongly supportive that women should make these decisions and governments shouldn't intrude. I'm a strong supporter of Roe v. Wade and women being able to make these decisions. In government, we have enough things to worry about. We don't need to make people's reproductive decisions for them.
While campaigning over the summer, Kaine pointed out that it took 144 years for women to get the right to vote in the United States, and that the nation lags behind other countries in the world who have elected women to top government offices:
It took us that long to say in 1920, to say women get a right to vote. And now we're 96 years later and we have just nominated a woman. We know we haven't had a woman president. But in Congress right now, we're doing the best job we have ever done in women in the federal legislature: 19 percent. That's the best job we've ever done.
When it comes to supporting women he knows personally, such as his mother, his wife, and his running mate Clinton, Kaine has been openly supportive of their efforts on Twitter — even long before the campaign began.
Kaine has also vocally opposed Donald Trump's plan for paid leave for families, especially moms. At a roundtable event in New Hampshire last month, Kaine said of Trump's plan (and outdate maternity leave policies in general):
Maternity leave has kind of a 1990s feel to it. It's not 2016. Because in 2016 not only do women take off to take care of kids when they're born, but men do too.
His support of moms and dads having paid leave after the birth of a new baby is very much in support of Clinton's plan, which would guarantee up to 12 weeks of paid leave. Trump's plan offers six weeks of partial pay.