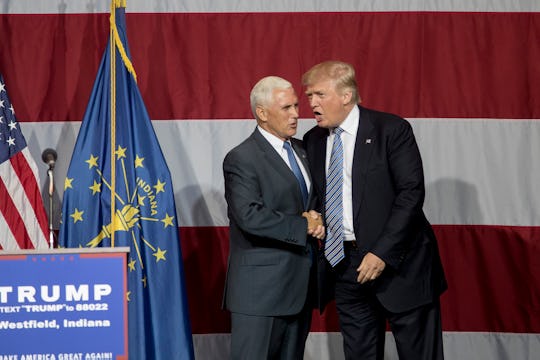 Aaron P. Bernstein/Getty Images News/Getty Images
Trump Confirms Mike Pence As His Vice President & Running Mate For 2016
Presumptive Republican presidential nominee Donald Trump confirmed rumors that Indiana Gov. Mike Pence will be Trump's running mate on Friday morning. He announced his decision on Twitter, adding that he scheduled a news conference for 11 a.m. on Saturday.
Pence responded to Trump's statement on Twitter; he wrote, "Honored to join @realDonaldTrump and work to make America great again." Trump initially planned to reveal his choice for vice president during a news conference on Friday, but he postponed it following the Thursday night terrorist attack in Nice, France.
Within the Republican Party, Pence is known as a social conservative; according to The Washington Post, Pence is a Christian who claims to put faith and conservatism before Republicanism. Throughout his career, he's had a mostly good reputation within his party (House Speaker Paul Ryan even called him a "personal friend"), but his association with the Tea Party and history of backing controversial legislation could be divisive in the general election.
Earlier this week, Trump's VP shortlist seemed to include three candidates, CNN reported: Pence, New Jersey Governor Chris Christie, and former Speaker of the House Newt Gingrich. Trump and Pence appeared together at an Indiana rally on Tuesday, then reportedly spoke in private. Gingrich said he had a two-and-a-half-hour meeting with Trump on Wednesday as part of the vetting process, according to Yahoo! News.
Pence grew up in Columbus, Indiana, according to the biography on his website, and he is a graduate of both Hanover College and Indiana University School of Law. During his 12 years in Congress, he chaired the Republican Study Committee and the House Republican Conference. He has three kids with First Lady Karen Pence; her biography indicates that she's a school teacher with over two decades of experience.
Pence got national exposure for signing the Religious Freedom Restoration Act (RFRA) into law in Indiana, NBC News reported. Social justice organizations across the country questioned the law's language that seemed to allow state-sanctioned discrimination, specifically against members of the LGBT community. Though Indiana legislators promised to refine the language of the law to ensure it couldn't be used to justify discrimination, Pence still received a great deal of criticism.
Under Pence's leadership, Indiana also has an extremely strict abortion law that bars terminating a pregnancy when a disability is identified in the fetus, The Washington Post reported. Despite Pence's controversial decisions, Tea Party Patriots President Jenny Beth Martin told CNN that Pence would likely unite Republicans:
Mike Pence is a man who, time after time, does what he thinks is best for conservative principles, the country, and his party.
Though he may not sway independents with liberal leanings, Pence's strict conservatism may help Trump win over Republicans who question Trump's allegiance to party ideals.