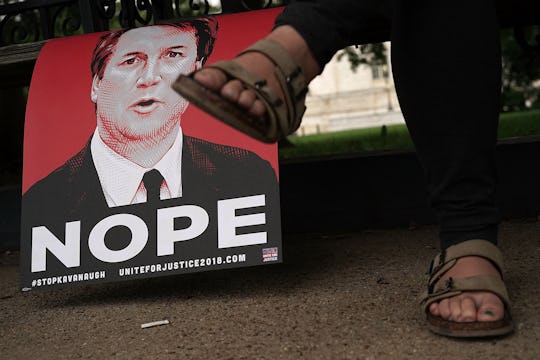 Alex Wong/Getty Images News/Getty Images
Yes, Trump Really Called Two Sexual Assault Survivors 'Paid Professionals'
Late Friday morning, the Senate narrowly voted to advance Brett Kavanaugh's U.S. Supreme Court nomination to a final confirmation vote expected to take place on Saturday. But ahead of the procedural vote, President Donald Trump took to Twitter in what seemed to be an attempt to sway undecided Senators in voting for his embattled SCOTUS nominee. In the process, Trump insulted sexual assault survivors protesting Kavanaugh, calling them "paid professionals." People, of course, were furious.
The president tweeted his smear against protestors, many who belong to the #MeToo movement, on Friday morning around 8 a.m. Eastern time — just two hours before the crucial procedural vote was scheduled. In his conspiratorial tweet, Trump labelled sexual assault survivors as "very rude elevator screamers," accusing them of being funded by billionaire George Soros to embarrass certain congresspeople for their support of Kavanaugh, who is facing multiple allegations of sexual assault.
Many believe the president's post is in reference to two activist-survivors who, last week, confronted Republican Sen. Jeff Flake of Arizona in a Senate elevator with their own stories of assault, according to Mother Jones. Before the powerful confrontation, Flake had announced his intentions to advance Kavanaugh's nomination out of the Senate Judiciary Committee, which ultimately came to pass.
Allies and fellow activists quickly took to Twitter to defend the survivors — and, by extension, all sexual assault survivors — pointing out not only his hypocrisy, but his seeming cruelty towards rape victims.
Adding insult to injury, Trump tweet came days after he openly mocked Dr. Christine Blasey Ford during a rally in Mississippi on Tuesday, according to Slate. Last Thursday, Ford had testified before the Senate Judiciary Committee during Kavanaugh's nomination hearing, recalling, in great detail, how the judge allegedly attempted to rape her at a party while they were high school students in the 1980s.
The women who confronted Flake were later hailed as a heroes after the Arizona senator called for a one-week delay of the procedural vote so that the FBI could investigate the sexual assault allegations brought against Kavanaugh by Ford and two other women, Deborah Ramirez and Julie Swetnick. Flake, who did vote in favor of Kavanaugh on Friday, had said during the Senate Judiciary Committee last week that he would not be comfortable advancing the judge's nomination unless there was a federal probe, according to CNN.
That truncated investigation wrapped up earlier this week, with a report summarizing the findings sent to senators early Thursday morning, according to The Washington Post. But that investigation wasn't an actual criminal investigation; instead, The Post reported, it was a background check into Kavanaugh, which meant the FBI was acting on behalf of the White House and agents were limited in who they were allowed to interview. Federal officials didn't speak with Kavanaugh and Ford — the very subjects of the probe. 
Despite the multiple sexual assault allegations and criticisms that the curtailed FBI investigation was inadequate, Flake and Republican Sen. Susan Collins of Maine — both considered swing votes — said they were satisfied with the contents of the report, according to The Washington Post. They had both voted yes on Friday in a narrow 51 to 49 vote to advance Kavanaugh's nomination to a full floor confirmation vote.
Sen. Lisa Murkowski of Alaska, another swing vote, voted against the nomination — the only Republican senator to do so, according to The Anchorage Daily News.
Trump's Friday tweet is not the first time he has promoted the right-wing conspiracy theory that Soros bankrolls anti-Trump protestors, according to Slate. But this particular accusation stings, and not only because it's an affront to sexual assault survivors everywhere. It also accentuates the fact that the country's leaders — be they the president or congresspeople — have abandoned discernment completely.
Sure, politics has always been a corrupt game of will and power. But when there are all these pieces screaming, "Something is seriously wrong," and lawmakers still vote in favor of someone like Kavanaugh, what hope is there for the future?
What hope is there for any justice?