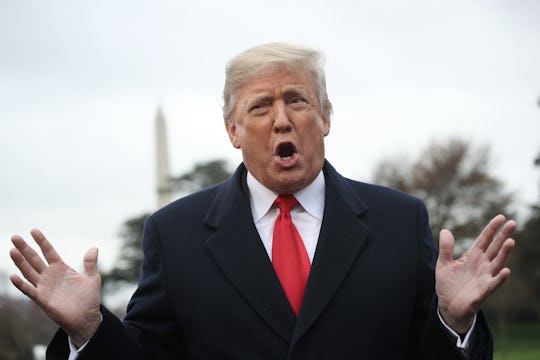 Win McNamee/Getty Images News/Getty Images
Naturally, Twitter Had Jokes About Trump Popping Out Of A Fake X-Mas Fireplace
President Donald Trump, who is leading the charge against the supposed "war on Christmas" (insert one billion eye-rolls here) held a Christmas-themed rally in Biloxi, Mississippi on Monday. And during the event, Trump popped out of a fake fireplace as his grand entrance, according to HuffPost. If that image is a bit horrifying to your senses, take solace in these hilarious Twitter reactions to Trump's Grinch cosplay.
One of the most frustrating things about Trump during the holidays is his obsession with Christmas. Yes, Christmas is wonderful and special for many people, but it's not a holiday that every American celebrates. And therefore, it's not fair or right to pressure citizens to wish others a "Merry Christmas," or to spread the myth that Christmas is somehow under siege. It's also a strange cause to take on when millions of citizens don't have health insurance and there's an ongoing immigration crisis at the U.S.-Mexico border, to name a few pressing issues.
But to Trump, fighting the "war on Christmas" is one of his most important causes. "People are proud to be saying Merry Christmas again," he said on Twitter in December 2017. "I am proud to have led the charge against the assault of our cherished and beautiful phrase."
At a rally for Mississippi Sen. Cindy Hyde-Smith on Monday, Trump continued his imaginary crusade by decking out the event space with tons of Christmas decorations. Numerous attendees held "Merry Christmas" signs, while fake snow fluttered down on the crowd, according to the Daily Express.
Oh, and who could forget the Santa Clauses wearing MAGA hats? Or the life-size nutcrackers?
To top it all off, Trump emerged on stage via a fake Christmas-themed fireplace.
"There goes the suit," Trump said as he encountered the fake snow, according to HuffPost. "There goes the hair."
Of course, it didn't take long before people on Twitter were making Grinch and Christmas-themed jokes.
"The Grinch Who Obstructed Christmas," one user on Twitter joked.
"The Burgermeister Meisterburger comes to town," a person employing a Santa Claus Is Comin' to Town reference quipped. "Hide the toys."
Someone else chimed in: "Here comes the Grinch who stole America!"
One grandmother penned: "Seeing you come out of a Christmas fireplace would scare the crap out of children. Thanks I now know what to use to keep my 4 year old granddaughter in line........ #SantaFraud."
"Wow. It's like a setting at the mall for a picture with Santa," a commenter added. "So embarrassing."
Another user commented about the decor: "That fireplace looks like the backdrop for a 3rd grade play."
"Did he use Floo Powder to get there?" a user asked.
Jokes aside, it's fair to wonder if Trump was trolling critics with his Christmas-themed rally. It's like the Christmas section at a craft store threw up all over this arena, which seems a tad inappropriate considering this was a political event. But as Americans have learned with Trump time and time again, he doesn't play by the rules.
The upside to this arguably bizarre display? The internet now has plenty of Trump-Grinch jokes to enjoy over the holidays.