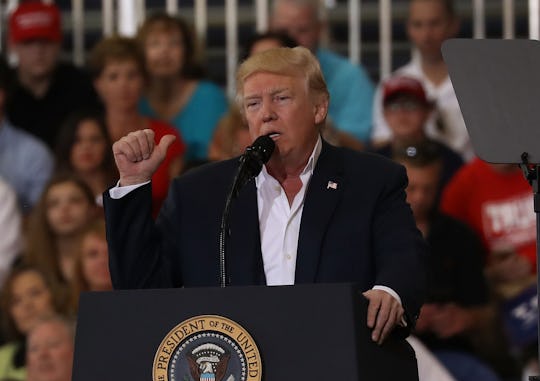 Joe Raedle/Getty Images News/Getty Images
Trump Might Revoke Trans Bathroom Rights For Kids
According to the Washington Blade, President Trump will reportedly revoke protection for transgender kids in schools on Tuesday. Sources told the news outlet on Monday that Trump has approved a plan for the Justice and Education Departments to send a letter out to schools rescinding President Obama's directive that children be allowed to use washrooms consistent with their gender identities.
The news came from Mara Keisling, the National Center for Transgender Equality's executive director, who cited "reliable sources" and told the Washington Blade:
This is the first day of the president's second month in office and he is now fully coming after LGBT people. I'm angry; I'm outraged. This is about kids who just want to go to school who just want to be themselves, and to hear the president a week or two ago talk about how supportive he is of LGBT people, it's just outrageous that he go after trans kids this way.
Romper has reached out to the White House regarding Keisling's allegations, but did not hear back immediately.
Obama's directive, signed by officials at the Education and Justice Departments, had warned public schools across the country that denying transgender children the use of bathrooms that align with their gender identity violates sex discrimination prohibitions. It was a rule the Trump team hinted at repealing once they were in the White House, according to Business Insider, with Vice President Mike Pence telling a radio host in October, "The transgender bathroom issue can be resolved with common sense at the local level."
White House spokeswoman Kelly Love told the Hill: "We have nothing to add to this report right now, but will keep you posted if anything changes."
Just days ago, according to TIME, the Justice Department dropped a Texas court's challenge to Obama's LGBTQ directive, meaning the government is no longer fighting for the right to challenge schools who limit transgender children's access to facilities. That move alone sent a message to the LGBTQ community across the country. "It hasn't been that long that trans people have been protected at all in our society," Greta Martela, the founder of crisis hotline Trans Lifeline, told TIME after the Justice Department dropped its challenge. "It's hard as a community to watch whatever small progress we've made kind of disappear."
The Trump Administration has not dropped all progressive LGBTQ policies since taking office, however. According to The New York Times, at the end of January, the White House said it would be leaving in place a 2014 order that created new workplace protections for LGBTQ workers. In a statement in January, a White House spokesperson said, "President Trump continues to be respectful and supportive of L.G.B.T.Q. rights."
However, if the alleged letter rescinding Obama's directive is indeed sent out to schools nationwide, it would issue a strong message to LGBTQ youth around the country — and it would signal a need for Americans to fight harder than ever for LGBTQ rights.