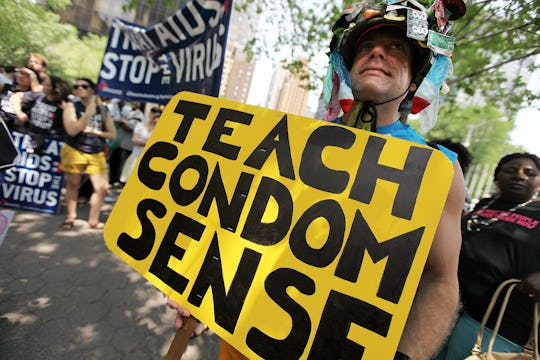 Mario Tama/Getty Images News/Getty Images
Trump Just Cut Millions From This Crucial Teen Health Program
More than 80 of the nation's leading health research institutions were dealt a serious blow this week after a sudden decision by President Donald Trump's administration to cut millions in teen pregnancy prevention funding, according to the Center for Investigative Reporting. The organizations, including Children's Hospital of Los Angeles and Johns Hopkins University, had been awarded five-year grants by the Department of Health and Human Services under the Obama Administration. In a surprise decision, the new administration decided to end funding at the midway mark — or even sooner, in some cases — rescinding more than $213.6 million in promised funding, CIR reported.
Teen pregnancy is at its lowest in nearly three decades, according to The National Campaign to Prevent Teen and Unplanned Pregnancy. In fact, the national teen pregnancy rate has dropped by half since 1990. Some of that is because young people are having less sex, according to the Centers for Disease Control and prevention. But researchers also credit efforts to better inform teens about pregnancy prevention and contraception for the decline.
Efforts to isolate the right mix of evidence-based prevention and education programs to help continue the nation's decline in teen births will be far more difficult with the mid-cycle cut in funding, CIR reported. The unusual move means that data already collected by could prove unusable, as research teams lose the means to turn them into valid analysis, researchers told CIR.
University of New Mexico associate research professor Jennifer Hettema was two years into a study of ways to help doctors counsel Native American and Latino teens on avoiding pregnancy when her office received word that their funding had been ended. In an interview with CIR, she said that the project would now have to be scaled back in a way that will likely lead to less helpful findings for the field:
It's kind of like building half a skyscraper and then saying, 'Never mind.' And there are thousands of health care providers in this country who are winging it in terms of how to talk to teens about unintended pregnancies.
Eighty-one projects received funding in 2015 from the Department of Health and Human Services' Teen Pregnancy Prevention Program.
While the loss of funding came as a surprise to the grantees, some told CIR that they believed it signaled a shift toward an emphasis on teen abstinence — even if the science just isn't there. While serving as a congressman in Georgia, Health Secretary Tom Price vehemently opposed abortion rights, Planned Parenthood, and any policy that "promotes promiscuity among young people." Pat Paluzzi of Baltimore's Healthy Teen Network, a group working to develop an app to answer health questions for teen girls, told CIR that the funding cuts were "part and parcel of the shift to abstinence-only dollars":
They don't like to deal with the sexual reproductive health of teens. They frame it in this country as moral issues. Public health issues shouldn't be political issues.
In the end, it's quite possible that teens will suffer the most because of the funding decision. Despite the political push for abstinence-only education, researchers have offered ample evidence that abstinence-only education doesn't work — and can actually send teen pregnancy rates skyrocketing.
In truth, the evidence seems to suggest that the reason for the downward trend in teen births is likely because fewer teens are having sex — and because the ones who do have better access to contraceptives. But, without adequate federal funding, it could take much longer to determine the right mix of valid outreach and resources to help keep teen pregnancy on a downward slope.