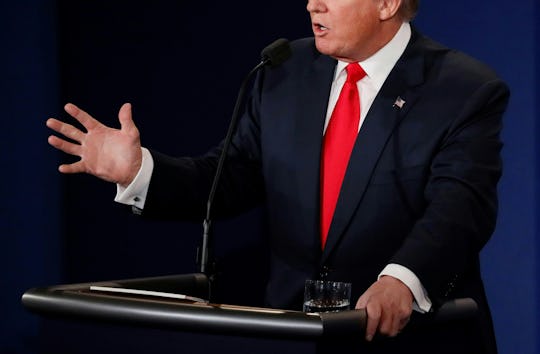 MARK RALSTON/AFP/Getty Images
Trump's Facebook Live Stream Of The Last Debate Shows He Really Doesn't Like The Media
It's no secret that the Republican presidential nominee really, really doesn't like the media. And Donald Trump's Facebook Live stream of the last debate Wednesday night is further evidence that he's sticking with his story that the elections are rigged against him as he slides in the polls (even though there are zero facts to substantiate that claim). So, going into his final face-to-face showdown with Democrat Hillary Clinton, Trump has assembled his own slew of pundits to cover the event in his favor — and he's joining virtually every major network in broadcasting it to his supporters.
Trump is now the underdog by a significant margin, as his popularity has plummeted after the leak of a 2005 video of him boasting about allegedly kissing and groping women without their consent, and the ensuing outpouring of allegations of sexual assault and harassment against him that it inspired. The situation put Trump back on the defensive: "The election is absolutely being rigged by the dishonest and distorted media pushing Crooked Hillary - but also at many polling places - SAD," Trump tweeted on Sunday.
And he opted to perpetuate that narrative before debate no. 3, streaming live from Las Vegas.
"If you're tired of biased, mainstream media reporting (otherwise known as Crooked Hillary's super PAC), tune into my Facebook Live broadcast," the GOP's candidate wrote in a Facebook post along with his own live stream. "Starts at 8:30 EST/5:30 PST -- you won't want to miss it. Enjoy! #draintheswamp"
Trump's relationship with the media is rocky at best. When The New York Times recently published the accounts of two women who claim Trump touched them inappropriately, which he has vehemently and consistently denied, he promptly threatened to sue. He has an extensive history of revoking the press credentials to his events of outlets he feels treat him unfairly — often by simply quoting him directly.
Maybe Trump decided to go the live stream route as practice for launching the television network he's rumored to be planning to start if he loses this election. Perhaps he really does think it will help his tarnished image. Either way, it's unlikely to singlehandedly help his debate performance, or ensure that he can convince any more Americans to cast their ballots for him. Only Trump himself can do that, with his words and actions, it it truly does not matter whether it's CNN or NBC or FOX or the Donald Trump Facebook Live stream that's broadcasting it.