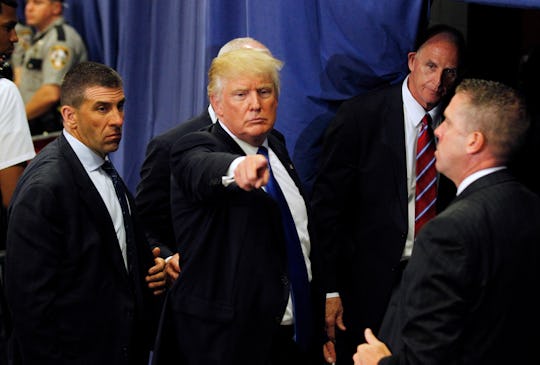 John Sommers II/Getty Images News/Getty Images
Trump's Official Statement On The Dallas Shooting Is Strange, & People Are Noticing
If it seems like the United States has turned upside-down this week, that's because it really, really has. Not only did the separate police shootings of two black men in Louisiana and Minnesota — and the viral cellphone footage that captured the last moments of each — devastate the nation and enrage racial justice activists, but a coordinated, "execution-style" attack at an otherwise peaceful subsequent protest in Dallas left five police officers dead and seven others wounded. And then presumptive Republican presidential nominee Donald Trump's official statement on the Dallas shootings decried the "tragic, senseless deaths" of the black men whose deaths sparked the protest, as well as "the attack on our country" that killed the officers. It was a surprisingly even-keeled response from an oftentimes bombastic candidate, making it that much more clear that he didn't write it.
"It is a coordinated, premeditated assault on the men and women who keep us safe. We must restore law and order. We must restore the confidence of our people to be safe and secure in their homes and on the street," the statement reads in in part. "…This morning I offer my thoughts and prayers for all of the victims' families, and we pray for our brave police officers and first responders who risk their lives to protect us every single day."
In the past, Trump has offered particularly tone-deaf quasi-condolences following tragic events. On June 12, for example, when 49 people were killed in the worst mass shooting in American history at a gay nightclub in Orlando, he quickly tweeted that he didn't want "congrats for being right on radical Islamic terrorism."
It was a comment both factually inaccurate (Trump had called for a ban on Muslim immigrants to combat terrorism, but the perpetrator was an American citizen) and incredibly tone-deaf. One of his next moves was to suggest that President Obama is sympathetic to Islamic terrorists.
So it's not exactly shocking that some are skeptical that Trump had anything to do with writing his, well, presidential-sounding statement, which reads, in part:
Our nation has become too divided. Too many Americans feel like they've lost hope. Crime is harming too many citizens. Racial tensions have gotten worse, not better. This isn't the American Dream we all want for our children.This is a time, perhaps more than ever, for strong leadership, love and compassion. We will pull through these tragedies.
Others praised Trump's uncharacteristically tactful response:
One Twitter user pointed out that people were congratulating Trump simply for releasing one statement about a series of devastating events that wasn't a total train wreck:
One of the most glaring — but, perhaps if another politician had written it, innocuous — lines in the statement from the Trump camp that "Our nation has become too divided." For many, the man who has consistently disparaged immigrants, women, Native Americans, disabled people, and so many more throughout his campaign is the last person who should talk about the country being "divided."
Perhaps the most truly Trumpian aspect of the statement is the glaring inaccuracy, which many have pointed out. In it, he refers to both of the black men who were shot and killed by police officers this week as "motorists." In fact, 32-year-old Philando Castile was shot by an officer who pulled him over during a routine traffic stop on Wednesday in Falcon Heights, Minnesota. But the day before, 37-year-old Alton Sterling in Baton Rouge had been selling CDs outside a convenience store before police shot and killed him. At the time, he wasn't a motorist — there was no vehicle involved.
Whether or not Trump really did write this statement, it seems like it could represent a turning point in his campaign as he tries to act more like a leader. Regardless, it's clear that the nation doesn't need a commander-in-chief who elicits awe and surprise from Americans when he or she puts out a cohesive and respectful statement.