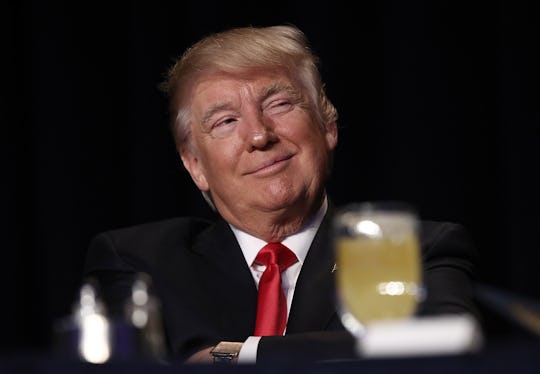 Win McNamee/Getty Images News/Getty Images
Trump's UC Berkeley Comments Don't Make Sense
As we are living in a world where a sitting president can respond in real-time to events throughout the United States via social media, in the wake of violent protests at UC Berkeley Wednesday night, President Trump took to Twitter to condemn the university. But Trump's statements about UC Berkeley contradict his actions when it comes to the First Amendment. If Trump believes in First Amendment rights, he might want to start applying them a little more consistently.
The protests erupted in response to a speaking event that had been planned on campus with Milo Yiannopoulos, a man who is primarily known for writing articles on Breitbart like" The Solution To Online 'Harassment' Is Simple: Women Should Log Off," only to be banned from Twitter himself... for harassing women online.
The event was canceled after the protests turned violent and the college went into lockdown. Around 1,500 people protested on campus, but there were only around 150 believed to be part of an "organized" attempt to incite violence, which resulted in property damage and fires. That, in turn, prompted the school to react with a statement shutting down the campus and canceling Yiannopoulos' event:
The violence was instigated by a group of about 150 masked agitators who came onto campus and interrupted an otherwise non-violent protest.
It also garnered plenty of responses on social media, including catching the attention of President Trump — who is still tweeting from his personal account despite the fact that he could be using the @POTUS account.
President Trump used Twitter to not just directly call out UC Berkeley for canceling the event, but to imply that in doing so the school was suppressing free speech. He then threatened to withhold federal funding from the university to punish the university for violating the First Amendment.
His statement is pretty rich, because it's coming from a man who has made multiple threats and attempts to suppress the freedom of the press and the free speech of a growing list of individuals and entities since taking office. The National Parks Service, in particular, made headlines for leading the resistance against suppression of fact, specifically as it pertains to climate change, with a series of tweets that have since been deleted. After the official accounts went dark, a series of alternative accounts, allegedly run anonymously by parks' service employees, cropped up to continue the dialogue.
Trump has spent a great deal of time, effort, and resources trying to discredit the media, often calling out news organizations by name. This narrative has been bolstered by members of his administration, particularly Kellyanne Conway who gave us the term "alternative facts" and White House Press Secretary Sean Spicer. Trump has also threatened to "open up" libel laws so that news organizations wouldn't be able to print facts that make public officials like Trump look bad.
As many people have already pointed out, suppressing First Amendment rights is basically Fascism 101. Trump's tweet to UC Berkeley wherein he lambasts the school for suppressing Yiannopoulos' First Amendment rights while ignoring the rights of the peaceful protestors is a great example of Trump contradicting himself. He's either intentionally promoting only the laws that serve him and denouncing the rest, or he doesn't actually know what the Constitution says. Or maybe both. But in any case, neither of those things is reassuring in a president, particularly not in the form of a tweetstorm.