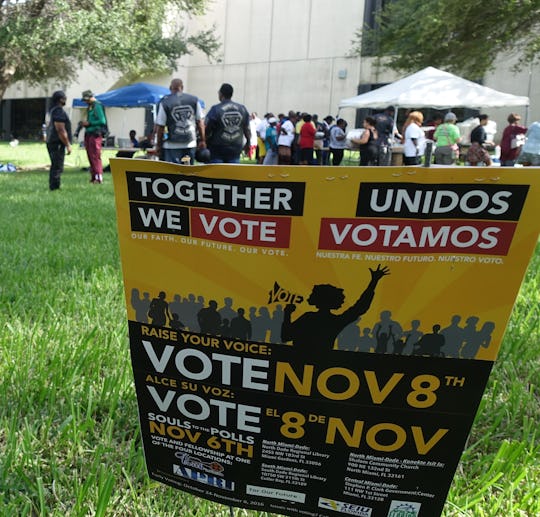 KERRY SHERIDAN/AFP/Getty Images
Tweets About Florida On Election Night Prove America Has It's Eye On This Swing State
There's a reason why American voters collectively groan about Florida on election night. Because Florida holds a lot of power when it comes to electoral votes these election night tweets about Florida can help keep things in perspective, especially if you're worried about the outcome of the election. Florida is tough to call, but it's always that way. When it comes to Florida, politics is usually a lot more of the same, election after election. Early on Tuesday night, news organizations called the election for Sen. Marco Rubio. Yet again. So social media started to worry about what that meant for the presidential race.
But it's really not even about particular candidates when it comes to Florida. It's about the fact that Florida always has some say about the outcome of any election and it's not fair. Sorry to all my friends from the strangest peninsula ever, but come on. Any native or transplant will tell you: Florida is a weird place when it comes to politics. For that reason, the fact that America's presidential elections are often decided there can be frustrating.
And not just to the snobs up in the northeast or the hippies to the west. No one thinks it's OK that Florida decides elections. Not even people in Florida. I mean, the proof is in the tweets:
Florida has 29 electoral votes, which is a big win for any candidate. But it's anyone's guess as to how it will go this year. It's important to remember that Florida was the state that led to the contested 2000 election between Al Gore and George W. Bush. The state was close enough in the popular vote that by state law, they had to initiate the now famous recount. But that was a recount called by the state's election board, not a candidate. But given the rhetoric from Republican candidate Donald Trump on the campaign trail that he fears a "rigged election," Florida is a state for every voter to watch.
Florida polls closed early on Tuesday night around 7 p.m. and 8 p.m. ET, but results take some time to come in. The fact that Florida has a precedent for being tough to call doesn't make it easier to watch. In fact, sometimes it feels like the state is trying to stress the rest of America out on purpose on election night. Stay strong, Florida. The rest of America hears your cry for help.