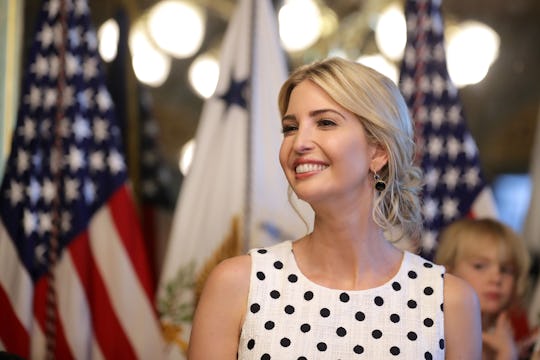 Chip Somodevilla/Getty Images News/Getty Images
Are Ivanka Trump's Memorial Day Popsicles Offensive?
Although many people consider Memorial Day the unofficial start of summer and use the long weekend to gather with family and friends, it's still a day of remembrance for members of the military who died in action or are missing. You can have barbecue and remember to honor the troops, but the tweets about Ivanka Trump's Memorial Day champagne popsicles show that most Americans would like the first daughter to have a little more respect for American veterans and those service members who have made the ultimate sacrifice.
On Monday, Trump's lifestyle website tweeted out a recipe for champagne popsicles. It was offensive to many people, since making popsicles really isn't the point of Memorial Day. And also, champagne is a drink most associated with wealthy people. In a country where some people still don't have lead-free water, suggesting that people spend the patriotic holiday making champagne popsicles demonstrates a gross lack of understanding about most Americans and their lives. Other entries on the blog for the weekend were all barbecue and summer travel based — how to pack a bag for a long weekend, how to work a grill, and how to wear white after the unofficial start of summer.
Ivanka's personal account tweeted just after noon, "Today we honor the men & women in our armed forces who have lost their lives to protect our freedom. Thank you for your service."
People On Twitter Were Not Happy
Many people on Twitter, as they are are accustomed to doing, noted that the Memorial Day tweet from her personal account came after some of the backlash on Twitter over her brand's tweet.
Her father attended a Memorial Day service at Arlington National Cemetery, accompanied by the vice president and his son-in-law, Ivanka's husband, Jared Kushner. Although Ivanka is one of her father's advisers and just traveled with him on his first international trip, she didn't make it to Arlington this morning.
Her father honored service members by laying a wreath at the tomb of the unknown soldiers and saying:
Every time you see the sun rise over this blessed land, please know your brave sons and daughters pushed away the knife and delivered for us all that great and glorious dawn.
He added, "To every Gold Star family: God is with you, and your loved ones are with him. I believe that God has a special place in heaven for those who laid down their lives so that others may live free. The Memorial Day address comes just one year after Trump fought with a Gold Star family, the Khan's, on the campaign trail last year.
Although the champagne popsicle recipe came from the Trump brand and not her own account, it was still tone deaf in a number of ways, given her father's role of president and his reputation for cherry picking what kind of military service member he chooses to respectfully honor. Maybe they'll get it right by Veteran's Day this fall.