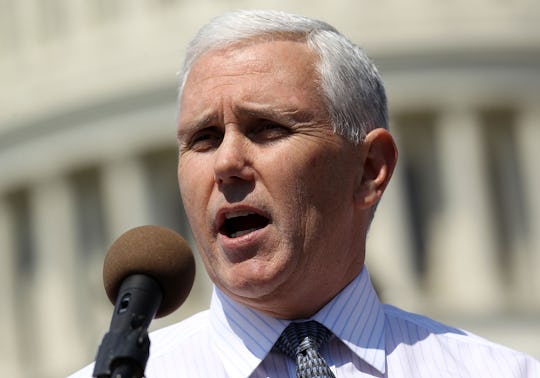 Alex Wong/Getty Images News/Getty Images
Tweets Criticizing Mike Pence's LGBT Views Show He Would Help Trump Alienate More People
On Thursday, Roll Call reported that Donald Trump's campaign would announce Indiana Gov. Mike Pence as Trump's running mate in the 2016 election. Though Trump's Senior Communications Advisor, Jason Miller, tweeted that "a decision has not been made" and Trump would still announce his decision tomorrow at 11 a.m. Still, people have frantically begun digging up info about Pence and his legislative record as governor. Pence was behind the famous Indiana religious freedom law, which said the state couldn't "substantially burden a person's exercise of religion," according to CNN, giving businesses and individuals the right to be protected from legal action should they refuse to serve LGBT people because their religious beliefs opposed the sexual orientation. After Roll Call's announcement, the tweets criticizing Mike Pence's anti-LGBT views started rolling in, as they should.
UPDATE: Trump confirmed Pence as his vice presidential running mate in a tweet Friday morning and said he would host a news conference on Saturday.
Though Miller shut down Roll Call's report on Twitter, people who remember the dangerous language of Indiana's religious freedom bill weren't going to keep quiet. Because it wasn't just the religious freedom bill that Pence used to make his anti-LGBT views clear.
According to On The Issues, Pence voted no on a 2007 bill that would've prevented job discrimination on the basis of sexual orientation; in 2006, he voted to support a constitutional amendment defining marriage as between one man and one woman; and, in 2004, he voted for an amendment to ban same-sex marriage altogether. Just recently, he also signed an executive order in Indiana that bans boys from wearing what he called "gay colors" in public elementary and secondary schools, according to the Huffington Post. To put it plainly, if he is Trump's pick, people will not be happy:
All of the tweets seemed to agree on something: it's 2016, and it seems completely blind and dimwitted to choose someone who opposes gay people being able to hold a job without being fired for their sexual orientation. If Pence is indeed Trump's pick, he just successfully alienated yet another group of Americans who are already subject to too much hate.