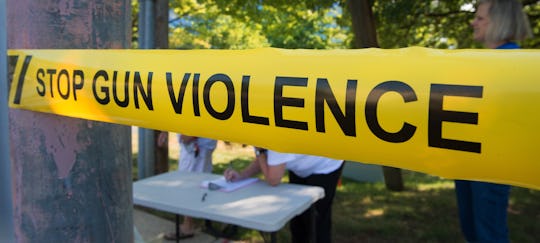 PAUL J. RICHARDS/AFP/Getty Images
Tweets From The Scene Of The German Movie Theater Shooting Show A Devastating Reality
UPDATE: The Associated Press and Reuters reports no serious injuries during the movie theater incident in Viernheim, Germany. The gunman, who took theater-goers hostage, has been killed by police, according to authorities.
On Thursday, an armed gunman wearing an ammunition belt entered the Kinopolis cinema complex in Viernheim, Germany, near Frankfurt, and took hostages. Early reports claimed an estimated 20-50 people were injured, however more recent reports indicate that there were no major injuries. Reports also indicate that special forces shot and killed the gunman at the scene. While official reports are still being formulated and the scene is still being investigated, early tweets from the scene of the german movie theater shooting show just how terrifying this latest attempted act of gun violence is.
Early images show heavily armed police officers, running to assist hostages and contain the situation. What would once be saved for an almost unrealistic action movie, has since become a regular image plastered on news outlets across the globe. And while the information pouring from in and around the scene by multiple news outlets is conflicting, the images paint a clear picture of gun violence and how we, as not only one specific nation but a collective world, have learned to react to it. We put up barriers and we call in police officers that look more like heavily armed military soldiers and we hope and pray that everyone is safe.
Here are just a few tweets that show the severity of the situation and how scary this latest act of gun violence truly is:
Our thoughts and prayers are with all of those in Germany, as this situation continues to unfold.
This post is updating...