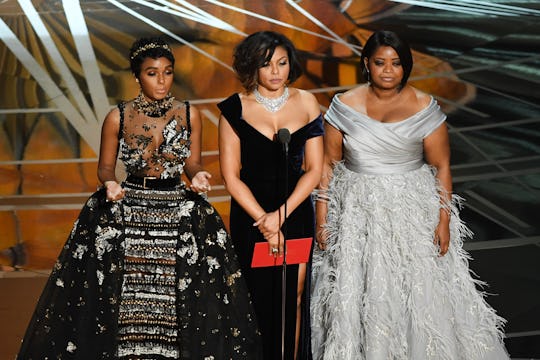 Kevin Winter/Getty Images Entertainment/Getty Images
Oscars Tweets & Memes About "Algebra's Angels"
Just when it seemed like we couldn't possibly get any more excited about Hidden Figures, Academy Awards host Jimmy Kimmel introduced the film's amazing stars with an amazing new moniker. The internet's tweets and memes about "Algebra's Angels" at the 2017 Oscars prove that main characters of the film are totally squad goals.
As if the moment wasn't flawless enough, the stars of the film — Janelle Monáe, Octavia Spencer, and Taraji P. Henson — were joined on stage by the real Katherine Johnson (played by Henson in the film). Johnson, who is 98 years old, is a brilliant mathematician and physicist, and it was her skill in geometry specifically that helped project Alan Shepherd's orbit in 1961 — a major first for the U.S. space program. At NASA, she was nicknamed "the human computer" — "when computers wore skirts," she added. Her mathematical calculations were also instrumental in the success of the Apollo 11 mission in 1969.
In 2015, Johnson was given the Presidential Medal of Freedom by former President Obama, and the book based on her life and work, Hidden Figures: The American Dream and the Untold Story of the Black Women Mathematicians Who Helped Win the Space Race, became the basis for the award-winning film.
Before bringing Johnson to life on the big screen, Henson met with the space scientist and learned that she had graduated from high school at 14 and college at 18, having taken every math class she possibly could fit into her schedule.
Hidden Figures tells an extraordinary story not just of science and the space race, but of the struggle of brilliant women in male-dominated arenas, and the still present racial tensions that permeate U.S. culture, even today. When the film was released, many people were astonished that they had never learned about Johnson and her team's contributions to NASA and the American space program. Others were quick to point out that many people of color, particularly women, have been left out of history textbooks — and that's one reason why films like Hidden Figures are more than just entertainment.
The film is rightfully up for multiple Academy Awards — including Best Picture — but regardless of wins, the film has certainly gained a revered and established presence not just in film history, but in the collective history of American culture and achievement. The fact that it took so long for us to know about Johnson should serve as a reminder to us all that the pervading narratives are not the only perspectives and stories — and that if we don't look beyond them, we'll be missing out on the richness of history, and the future.