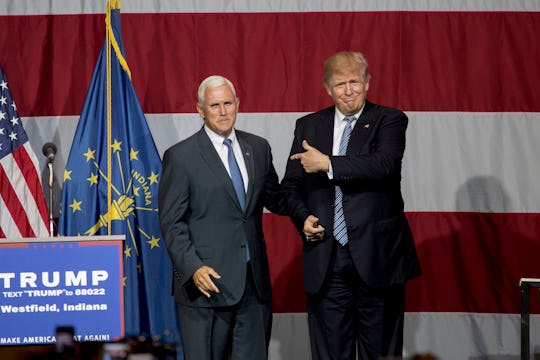 Aaron P. Bernstein/Getty Images News/Getty Images
Twitter Reacts To Mike Pence As Donald Trump's Reported Running Mate, Makes Puns Already
One day before Donald Trump was set to reveal his pick for his possible vice president in the 2016 election, Roll Call has reported that Indiana Gov. Mike Pence has been chosen as Trump's running mate. (The New York Times also released its own report, claiming Trump has "signaled strongly" that he will pick Pence.) As media reports begin to churn out, Twitter's reactions to Pence as Trump's running mate are flowing as well.
The reported choice was not an altogether surprising one — after all, Pence was mentioned in the same sentence as Newt Gingrich as Trump's possible pick for days. (Sorry, Chris Christie — this one was just a bridge you couldn't gap.) The big surprise, though? That Pence's name would be revealed prior to Trump's big showcase in New York Friday. (That said, we already did see Trump roll out Pence in front of audiences earlier this week in Indiana, at a rally that doubled as an "audition," according to CNN.)
(Update: Trump confirmed that Pence would be his running mate on Twitter Friday morning, writing, "I am pleased that I have chosen Governor Mike Pence as my Vice Presidential running mate." The presumptive nominee will also conduct a news conference on Saturday, which was delayed from Friday following the Nice terror attack.)
Still, considering the frenzy surrounding Trump's campaign, those watching the events of the election go down on Twitter are having no problem turning the reported reveal into quite the showcase itself. How could one not when, in the case of the Indiana governor, there is a pun that's quite easy to work with?
First, though, Trump's camp is staying mum about the news, refusing to confirm media reports.
But then, of course, there were puns.
Others, however, are spending time comparing Pence to some more recognizable faces in sports and entertainment.
Wait, I'm not done with puns yet!
Those on Twitter who are more focused on his political prowess, however, don't seem all that impressed with Trump's choice, especially when stacked up against other bigger names that have been bandied about, like Gingrich's.
Others, however, are praising Trump's reported choice, which they see as strategic when it comes to the voting base.
Or, at least, not as bad as it could be.
Still, the majority of the reactions? Well, it's all burning down, according to many on Twitter in 140 characters.
But most upset of all? If Twitter is correct, poor Chris Christie.