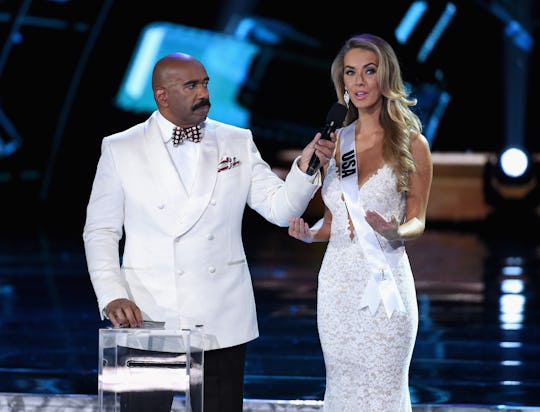 Twitter Reacts To Steve Harvey's Miss Universe Mix-Up & The Results Are LOL-Worthy
Sunday night's Miss Universe Pageant — the first without now-presidential hopeful and Republican front-runner Donald Trump — was both epic and horrifically awkward. When he named the new Miss Universe, host Steve Harvey crowned the wrong winner. He gave the crown to Miss Colombia, Ariadna Gutierrez-Arévalo, by mistake, even though Miss Philippines, Pia Alonzo Wurztbach, was the rightful winner. After Miss Colombia was given the intricate sash, the impressive crown, and presented with an over-sized bouquet of flowers, Harvey sheepishly walked to center stage to right his now epic and unforgettable wrong, according to NBC News:
Okay, folks. I have to apologize. The first runner up is Colombia. Miss Universe 2015 is Philippines.
Which lead to the most awkward, uncomfortable moment in Miss Universe Pageant history. The sash and crown were carefully — and gracefully — removed from Gutierrez-Arévalo and placed on a shocked Wurztbach. The two contestants handled the situation with incredible poise, despite the negative reaction from the crowd. Audible boos could be heard as Harvey continued to try and explain his blunder, according to the Daily Mail.
Listen, folks. Let me just take control of this. This is exactly what is on the card. I will take responsibility for this, it was my mistake. It was on the card. Horrible mistake, but the right thing, I can show it to you right here. The first runner up is Columbia, it is my mistake. Still a great night.
While the two contestants were kind and understanding, the internet was not. Here are some of the funny, and critical, reactions Twitter had to the unforgettable moment.
And, if course, former-owner Donald Trump was unable to stay silent. The presidential candidate commented on the mishap, saying, "What happened to the girl from Colombia is devastating. I think I would make them co-winners. It would be very cool."
There's no denying, whether the mistake was an honest one or whether it was a clever PR move, everyone is talking about the Miss Universe Pageant now.
Image: Ethan Miller/Getty Images News