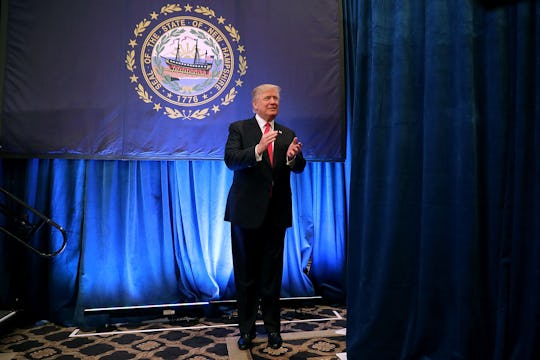 Chip Somodevilla/Getty Images News/Getty Images
Video Of A Daycare Teaching Kids To Say "Hillary Is A Liar" Shows How Prejudice Begins
Black Lives Matter activist and New York Daily News writer Shaun King uploaded a disturbing video to social media on Friday: the Snapchat video reportedly shows daycare employees teaching kids to chant "Donald Trump!" and to say "Hillary is a liar." The video's authenticity hasn't been confirmed, but seeing the kids answer a call-and-reply sequence gleefully shows how easily influenced young children can be, and how careful adults have to be about the ideas they present to kids.
Explaining the video on Twitter on Friday, King wrote, "Just received this from a deeply concerned parent. Daycare in Taunton, MA teaching kids to cheer for Trump and say Hillary's a liar."
In the attached Snapchat video, a woman filming asked, "Who do you want to be the president?" A smiling boy answered, "Donald Trump!" The woman then asked, "Who's a liar?" — to which the boy answered, "Hillary Clinton!" (This portion of the video was captioned "Someone taught him well.") Several children could then be seen chanting "Donald Trump! Donald Trump!" as well as "Hillary is a liar!"
If true, the news would definitely be concerning. First of all, state regulations in Massachusetts don't allow childcare programs to have children take part in publicity without the informed, written consent of their parents. (Whether Snapchat videos are included in that regulation isn't clear, but it doesn't seem wise.) Romper reached out to a woman named Angelina Grillo on Facebook and has not yet received a response.
Second of all, teachers and parents should both be carefully watching what they teach their children. Teaching a child to critically analyze facts and make up their own opinion is the sign of a healthy education system, and it's a skill that will serve them much better in life than simple brainwashing will. Not only are daycare students a little young to generate an opinion of their own on their preferred candidate, but indoctrinating them early on to automatically disparage a person without knowing the facts is exactly how racism and sexism get started.
The person who posted the Snapchat video didn't seem to know it was shared to a wide audience, and when one Twitter user reportedly contacted her about it, she said she was not teaching the children to chant. "How did you get my snap? Who are you? Why do you care?" she asked. "Take that video off social media or I will sew you for confidentiality. Please. I took them off snap. Im sorry it offended ou. But i would appreciate it if you took it iff. It wasnt meant like that. We werent teaching anything. We actually told them to stop muliple times after. That is not us. That is not what we were doing."
Whether the children were taught by their daycare or their own parents, the video is a good reminder to watch your words and actions around children. When they're young, they're sponges who are eager to please the adults they admire — and if we teach them to blindly hate, that's exactly what they'll grow up to do.