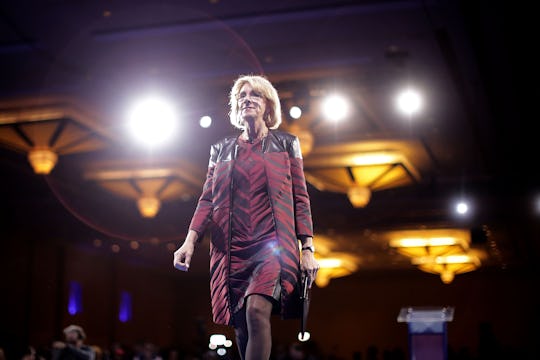 Chip Somodevilla/Getty Images News/Getty Images
Betsy DeVos Being Booed During College Commencement
Oh, Betsy DeVos. The new head of the Education Department hasn't exactly been well-received in her new role. In February, the vice president had to step in and cast a tie-breaking vote in her deadlocked confirmation, she's had to receive extra protection from U.S. Marshals, and the clap-back to her criticism of one public school's teachers being in "receive mode" nearly broke the internet. Now, a video has emerged of Betsy DeVos being booed during a commencement speech at Bethune-Cookman University, a historically black institution in Florida, and it doesn't look like things have gotten any easier for the education secretary in recent days.
Opposition to DeVos' attendance at seniors' commencement was already alive and well in the weeks leading up to their graduation. Over 8,000 people signed a Change.org petition asking the Bethune-Cookman administration to cancel DeVos' commencement speech. In the petition, students criticized both DeVos' understanding of historically black colleges and universities —DeVos previously called HBCUs the "real pioneers" of school choice, despite their existence largely being due to Jim Crow laws — and her weakening of consumer protections for student loan borrowers.
"Instead of inviting Secretary DeVos to graduation, let's welcome her to have meaningful dialogue about stronger policies, the White House HBCU Initiative, and the importance and contributions of HBCUs," the Change.org petition suggested. It continued:
Having DeVos speak at the commencement ceremony is an insult to the BCU graduating class, students, alumni, family, friends, and Dr. Mary McLeod Bethune's legacy.
However, despite the voices of dissent, the commencement speech went on as planned — albeit with a few interruptions. When DeVos took the stage, she was booed heavily and several students stood with their backs turned to her. Only a few minutes into DeVos' address, BCU President Edison Jackson paused her speech in order to warn students that if disruptions continued, their degrees would be mailed to them, according to Business Insider. However, the boos continued, growing louder when DeVos said she would visit the gravesite of the school's founder, Mary McLeod Bethune.
In the days leading up to graduation, Jackson wrote a letter to the campus community explaining the university administration's decision. "I am of the belief that it does not benefit our students to suppress voices that we disagree with, or to limit students to only those perspectives that are broadly sanctioned by a specific community," he wrote, according to The Washington Post. "If our students are robbed of the opportunity to experience and interact with views that may be different from their own, then they will be tremendously less equipped for the demands of democratic citizenship."
However, it seems like the students at BCU had already experienced enough of DeVos' views, as the boos continued throughout her address. While it couldn't have been an easy experience for DeVos, hopefully it will encourage her to use students' feedback in the future when crafting Department of Education policies.