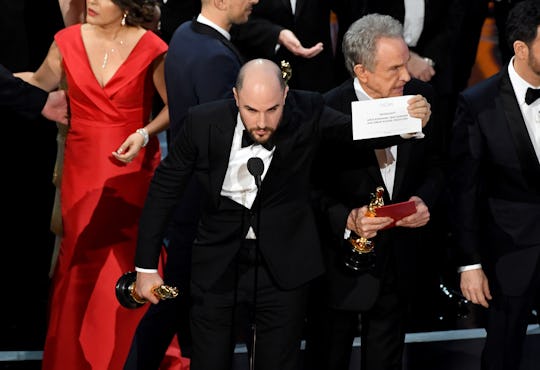 Kevin Winter/Getty Images Entertainment/Getty Images
Video Of 'La La Land' Accepting Best Picture
After an epic on-stage mixup, Moonlight actually won Best Picture at the 89th Annual Academy Awards after it was first announced that La La Land had won it. The awkward, cringe-worthy moment had everyone scratching their heads and the video of La La Land accepting the 2017 Best Picture Oscar has everyone wondering what Steve Harvey is thinking right now.
There were a lot of shocking and memorable moments from the 2017 Oscars, but this moment will certainly go down as one of the most shocking in the ceremony's history. The realization happened after co-presenter Warren Beatty studied the card at length and quietly let the La La Land cast members know about the mishap as they were in the middle of their acceptance speech.
According to The Los Angeles Times, La La Land producer Jordan Horowitz interrupted the celebration and "called attention to the discrepancy on the winners card in his hand," showing the card to the camera that clearly read Moonlight.
"There's a mistake, Moonlight, you guys won best picture. This is not a joke, Moonlight has won best picture," Horowitz said as he held the card, then adding that he's proud to hand the award this "friend" at Moonlight.
Watch the shocking gaffe below:
"I want to tell you what happened," co-presenter Warren Beatty explained after the mistake was revealed. "I opened the envelope and it said Emma Stone, La La Land. That's why I took such a long look at Faye and at you. I wasn't trying to be funny."
Oscars host Jimmy Kimmel tried to lighten the mood a bit with a few jokes. "Well, I don't know what happened. I blame myself for this... personally I blame Steve Harvey for all of this," he joked after the crowd learned of the mishap. "
He continued, "Let's remember, it's just an awards show. I mean, we hate to see people disappointed, but the good news is we got to see some extra speeches. We have some great movies. I knew I would screw this show up, I really did. Thank you for watching. I'm back to work tomorrow night on my regular show. I promise I'll never come back. Good night!"
After a bit of awkwardness passed, Moonlight director Barry Jenkins took the stage and said, "Very clearly, very clearly in my dreams this could not be true. But to hell with my dreams. I'm done with it because this is true. Oh my goodness."
We all knew that the Oscars were going to be a memorable night filled with glitz and glam, but this blunder certainly takes the cake.