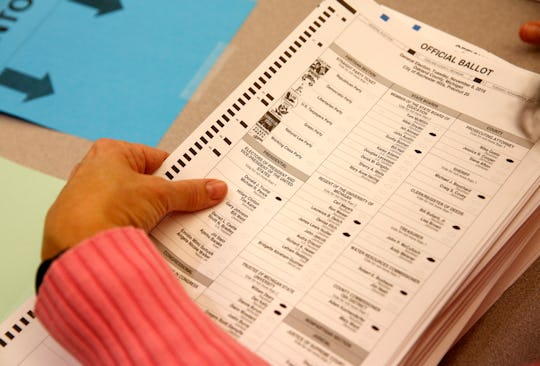 JEFF KOWALSKY/AFP/Getty Images
Voting Machines In 37 Percent Of Detroit Registered Too Many Votes, Election Report Finds
In the midst of CIA reports that the 2016 presidential election may have been hacked by Russian cyber attacks, The Detroit News reported on Tuesday that voting machines in 37 percent of Detroit's precincts registered too many votes than were actually counted in last month's election. The newspaper came to the conclusion after requesting detailed voting records from officials in Wayne County — home to the most populous city in Michigan, which was a key battleground state in this year's election.
According to The Detroit News, the report found that optical scanners in 248 of the city's 662 precincts registered more ballots than the number of votes tallied by workers in the poll books.
The publication reported on Monday that these voting irregularities in Detroit have "spurred plans for an audit" by Michigan Secretary of State Ruth Johnson's office. But many of Detroit's votes couldn't be included in the statewide presidential recount that began last week due a state law. According to ABC News, under the state law, the votes in those precincts couldn't be recounted because the number of ballots and number of voter names that were reported on election night did not match up, which is the very reason they would need to be counted again. (It's especially strange that those numbers didn't match up in districts that overwhelmingly went to Clinton.)
The recount effort led by Green Party candidate Jill Stein ultimately ended days after it started when a federal judge ended the vote recount in Michigan. Last week Politico reported that this was because Stein had "no legal standing" to request the ballots be counted again as she had only received 1 percent of the vote.
Nearly three weeks after election night, Michigan state officials announced that President-elect Donald Trump had officially won the state with 16 electoral votes, while former Democratic nominee Hillary Clinton overwhelmingly won the popular vote in Detroit and Wayne County with 95 percent in her favor, according to ABC News.
And the ballot discrepancies were reportedly the worst in Detroit, meaning officials couldn't include nearly 60 percent of the precincts in the recount, according to the newspaper.
"There's always going to be small problems to some degree, but we didn't expect the degree of problem we saw in Detroit," chairwoman of the Wayne County Board of Canvassers Krista Haroutunian told The Detroit News. "This isn't normal."
While it is not uncommon for there to be slight miscalculations when tallying up votes — mainly due to human error — this new report highlights issues with the cash-strapped city's scanners. And with this new information, hopefully these concerning numbers can help officials determine if this election was truly rigged by either a fraudulent machine, by outside procedures, or if old and faulty scanners are the blame.