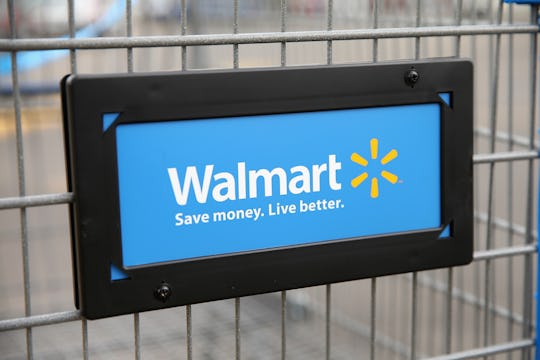 Scott Olson/Getty Images News/Getty Images
Walmart's New Meal Kit Service Just Made Dinnertime A Whole Lot Easier
Dinner is never easy to get together and it's not just because of your favorite picky eaters at the table. When you're a busy parent, planning, shopping, and cooking every single day can be really rough, which is why we often fall into the same food ruts, cooking up things we're not even sure we like anymore. There are a lot of meal kit services out there that try to remedy this situation, a trend that people seem to love, judging by how many new companies keep popping up to get in on the game. But Walmart's new meal kit service might actually be the most useful of all, since you can get one at almost the last minute and they're a little more budget friendly than some of the others that get delivered to your door. It's Walmart after all.
The superstore already sells meal kits from third party sellers, but now they're going to make their own kits in store. The Verge reported that the kits will be geared towards two people and cost about $8 to $15 each. All of the recipes in the kits are created at Walmart's Culinary and Innovation Center and made and packaged in the store on the daily. The kits will be available to buy at 250 stores across the country, eventually rolling out to about 2,000 stores.
CNN reported that the food can be ordered at lunchtime and then picked up in store in the deli by dinnertime, which is pretty convenient, too.
Sure, they're only portioned for two people, but there are a ton of situations where being able to pick up a kit that is going to include dinners like steak dijon, sweet chili chicken stir fry, and pork Florentine is so much better than the other options in your cupboard, and if they're a hit, you can see the company possible making them worth buying for larger families. Since they're kits, you actually get to put the meals together, which can be a good way to get some bonding time with your partner or kid.
Walmart is also going to have new "ready-to-heat" meals, such as meatloaf, chicken enchiladas, chicken marsala, and a cheesy ravioli bake among other meals, along with new rotisserie chickens that it's added ingredients to in order to get some Thai curry or chicken fried rice. That's a lot more interesting than a go-to grilled cheese or something on a busy weeknight, right?
Tyler Lehr, senior vice president and general merchandise manager, Deli Services, Walmart U.S. said in a press release for the new offerings:
Customers are busier than ever and we know getting a delicious dinner on the table can be a chore. We're here to help. These delicious meals give the best or worst of cooks a fresh, easy option for dinner tonight, or later this week.
For many people, cooking a meal every night is a joyful and fun experience. But a 2014 study shows, according to The Atlantic, that many moms (yeah, they left the dads out) are so stressed out by having to cook every night and making that "family dinner" look like it does on TV that it might not be worth it. Cooking things from scratch does have health benefits over cooking processed food or getting pizza every night. But sometimes it's just not possible.
Back in 2014, researchers from North Carolina State University interviewed 150 mothers from "all walks of life," as reported by Slate and spent 250 hours observing families. They found that the women had internalized the idea that "home-cooked meals have become the hallmark of good mothering, stable families, and the ideal of the healthy, productive citizen," but in reality that ideal wasn't always attainable.
"Time pressures, tradeoffs to save money, and the burden of pleasing others make it difficult for mothers to enact the idealized vision of home-cooked meals advocated by foodies and public health officials," the researchers concluded. It's just not possible all the time.
Low-income parents have unpredictable work schedules and income flow, so that they aren't always home for dinner and figuring out how to afford the ingredients is half the battle. Even if a parent is home, the dinner hour can also be consumed with homework, soccer practice pick up, and fighting with a toddler who just wants chicken fingers.
The study concluded, "The emphasis on home cooking ignores the time pressures, financial constraints, and feeding challenges that shape the family meal. Yet this is the widely promoted standard to which all mothers are held. Intentionally or not, it places the burden of a healthy home-cooked meal on women."
While it's not always possible to cook a meal from scratch every night, meal kits are a good way to cut through some of the obstacles keeping that glorified "home cooked meal" off your table on a busy night.
Check out Romper's new video series, Bearing The Motherload, where disagreeing parents from different sides of an issue sit down with a mediator and talk about how to support (and not judge) each other's parenting perspectives. New episodes air Mondays on Facebook.