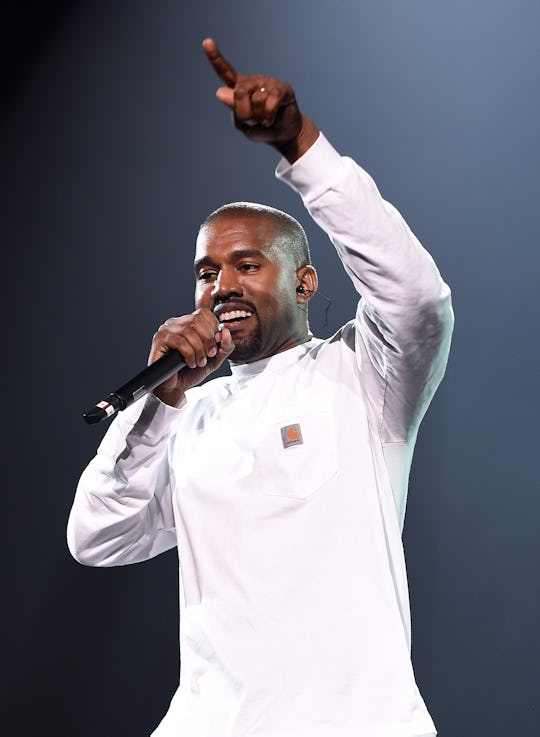 Dimitrios Kambouris/Getty Images Entertainment/Getty Images
Was 'The Life Of Pablo' Nominated For A 2017 Grammy? Kanye West's Latest Album Was Snubbed
As a rule, it seems, Kanye West never really leaves an award show empty handed. Or, at the very least, he arrives with plenty of nominations already in his name. So was The Life of Pablo nominated for a 2017 Grammy? Kanye West's most recent album was released in February of 2016 with mostly positive reviews and came three years after Yeezus was released. Although The Life of Pablo is an official album release from the rapper, unlike his former albums, it was not released as a CD, but rather strictly as a digital download and via Tidal, Jay Z's music streaming service.
Possibly because of the unorthodox release of The Life of Pablo, it wasn't nominated for a 2017 Grammy Award. When The Life of Pablo was released, West claimed that should he release any subsequent albums, none of them would be released on CD. And although for other artists this might hinder their sales or marketability, The Life of Pablo was still named on several top music lists of the year. Rolling Stone listed the album on their 50 Best Albums of 2016 list and Esquire added it to their 30 Best Albums of 2016. So it's pretty surprising that the 2017 Grammy's would fail to nominate The Life of Pablo as well — at least in the main categories.
Yes, believe it or not, West was snubbed for a 2017 Grammy in all four of the main categories — Record Of The Year, Album Of The Year, Song Of The Year, and Best New Artist — however, he was still nominated in eight different Grammy categories in general. In addition to a 2017 Grammy nomination for Best Rap Album, West was also given a nod for Best Rap/Sung Performance for "Ultralight Beam" and Best Rap Song for the same track.
The Life of Pablo was released in a streaming and download format, unlike any of his previous albums, and was pretty unheard of for an A-list artist like West to do. But somehow, by the grace of the rap gods, he managed to get himself nominated in enough categories to be able to take something substantial home from the 2017 Grammys. Still, being snubbed from one of the main four categories will likely not go unnoticed by the unpredictable singer.
You would never expect an album that doesn't come out on CD to do so well, but West is kind of an anomaly, in that he can really do no wrong in the eyes of his fans.