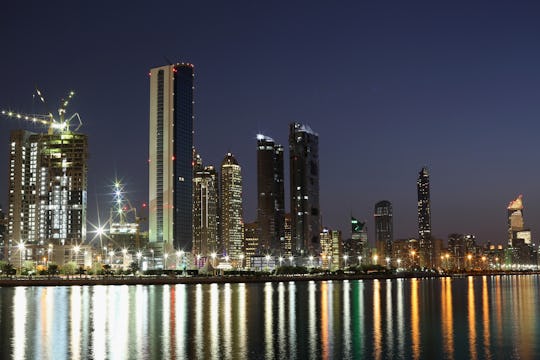 Dan Kitwood/Getty Images News/Getty Images
We Need To Talk About Trump's Defunct Dubai Deal
Mere hours after the nation watched as President Obama eloquently said farewell to being our commander in chief, we were greeted with a more unstable form of communication: President-elect Trump held his first press conference since his election, and to absolutely nobody's surprise, he was less than calm, cool, and collected. After refusing to answer a reporter's question, calling him "fake news," and taking a threatening tone when speaking of BuzzFeed, Trump also claimed he turned down a $2 billion business deal from an individual in Dubai. But the real question is, was Trump's now-defunct Dubai deal even legal to begin with?
To be fair, Trump did say that the main reasoning behind his rejection of the deal was that he wanted to remain clear and free of any conflicts of interest during our Presidency. In fact, after many have criticized the president-elect of not being fair and unbiased with this future executive position in terms of his own personal business dealings. However, as news broke yesterday that there is strong evidence pointing to the notion that Russia could be "blackmailing" Trump in effect (these claims, as a note, are unverified so far), any and all allegations of conflicts of interest must be taken seriously and looked into, at the very least.
Romper has reached out to the Trump team for comment on the Dubai deal and it's legality and it awaiting a response.
However, while nothing can yet be confirmed, the underlying tone of this so-called "deal" with Dubai is a little suspicious. Some on social media have even called it a bribe, a way of other world leaders worming their way into the future president's favor, so that, in the future, perhaps Trump, the most powerful man in the world at that point, will return the favor (in some way or another) This, of course, is speculation — but it's reasonable speculation, all things considered. Even if Trump himself refused to entertain the notion, the other party making the offer should arguably be analyzed by those in power here in the United States.
Because of this, many are questioning why Trump even felt the need to brag about this event, as turning down a so-called "bribe" shouldn't be a news-worthy event for the future leader of the free world:
Of course, in this new Trumpian era, little seems to make any sense anymore. The fact that Trump even brought up this deal is unusual at best; After all, while being hounded by reporters based on actual factual evidence, Trump instead decided to bring up a "deal" no one was asking about, a name-drop that may have done more harm than good, because it reminded us all that Trump has always been, and always will be, first a foremost, a business man.
Whether or not you believe that Trump's refused deal with Dubai was questionable (or an attempt to curry favor), the fact remains that it's not something that can be overlooked or ignored.