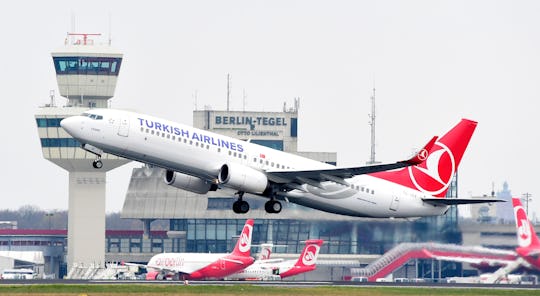 TOBIAS SCHWARZ/AFP/Getty Images
Were The Istanbul Airport Explosions Terrorism? It Looks That Way
Explosions and gunfire rocked Turkey's capital on Tuesday, killing at least 28 people and wounding several more, after multiple suicide bombers opened fire at an airport before blowing themselves up, according to Istanbul's governor. The blasts struck the city's main international airport, Istanbul Ataturk, a major regional transit hub for 42 million people a year. Were the Istanbul airport explosions terrorism? It certainly looks that way, although no group has taken responsibility for the attacks.
Update, 7:17 p.m. ET: Istanbul's governor says at least 31 people were killed in the Istanbul Ataturk airport attack, and at least 60 were wounded, according to the Associated Press. Authorities believe there were three suicide bombers.
The attackers began shooting at the entrance of the arrivals gate of the international terminal of the airport, but when police started firing back, they blew themselves up close to the security checkpoint just outside the building, CNN reported. No bombs exploded inside the airport building, Justice Minister Bekir Bozdag told CNN.
"I harshly condemn those who executed this terrorist attack, and those who gave the orders for it," he said in a televised speech in the parliament.
Bozdag said the government had information on the group responsible for the act but was not ready to share it.
A video from inside the Istanbul airport shows passengers crouching on the ground at the terminal and shouting, "Get down!" Outside, several injured passengers were wheeled into ambulances.
"I was going from the domestic to the international terminal, then there was suddenly a fireball and I saw people covered in blood,"a taxi driver named Fatih told CNNTurk.
Ataturk airport is the 20th most busy airport in the world. Flights to the airport were diverted and travelers were taken to hotels, according to Reuters. Police blocked all roads leading to the airport. Turkish president, Recep Tayyip Erdoğan met with prime minister Binali Yıldırım and military commanders to access the attack.
Tuesday marks the second anniversary of the declaration of the Islamic State's caliphate. The Islamic State is being squeezed on all sides and has lost half of its territory in recent months to a U.S.- led coalition that includes Turkey. The country is also battling Kurdish militants in its southeast. While it is still unclear who is responsible for the attack, it is one of the bloodiest to ever hit the city.