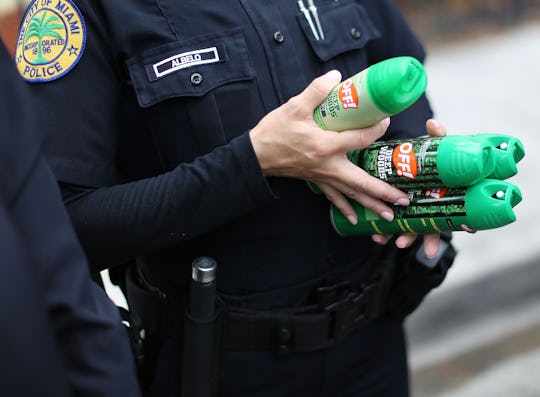 Joe Raedle/Getty Images News/Getty Images
What Are U.S. Cities Doing To Stop Zika Mosquitos? Outbreak Threats Are On The Rise
Florida has taken major steps to combat Zika, including travel warnings to Miami tourists and increased insecticide sprayings, but now other U.S. states must prepare for a potential Zika outbreak of their own. What are U.S. cities doing to stop Zika mosquitos? Some seem to be taking the Zika threat more seriously than others, as experts advise a combination of education, treatment, and prevention.
Southeastern cities in Georgia, Texas, South Carolina, and Louisiana have been preparing for Zika already. CNN reports that in Laredo, Texas, officials are monitoring local mosquitos through intermittent testing, and no carriers have been found yet. As mosquitos breed easily in water, the city is working to prevent any environment where water might collect. Last year, Laredo issued an ordinance outlawing tire dumping, as water pools on the inside of the tires. Hector Gonzalez, the director of the city health department, affirms that this has cut illegal tire dumping almost in half.
In New Orleans, Mayor Mitch Landrieu has dedicated $500,000 to "very aggressive" anti-Zika efforts, mainly increased insecticide sprayings. Additionally, Landrieu, along with Claudia Riegel, the director of mosquito control, says that the city will work one-on-one with citizens to prevent mosquito-breeding habits, providing weekly reminders to empty any outdoor containers of water. The city has also made gestures towards more frequent trash pick-up and encourages the disposal of unused tires. "Suppressing mosquito numbers before the arrival of Zika enables us to reduce the chances of virus transmission in the areas we serve," stated Steven Pavlovich, Mosquito Control Services of Metairie's lead entomologist.
Officials nationwide have encouraged the use of insect repellant and suggest wearing long sleeves, though many acknowledge that in hot, southern states this might be difficult. In Corpus Christi, Texas, CNN reports that officials urge that those who've contracted Zika while traveling or otherwise continue to use repellent, as failure to do so could cause Zika to spread locally through previously unaffected mosquitos.
In New York, $21 million has been committed to fighting Zika over the next three years. The three parts of the plan, labeled "Clinical Services," "Mosquito Control," and "Public Awareness" aim to address the virus from all sides. Testing humans and mosquitoes for the virus, trapping existent mosquitoes, and educating New York residents through media campaigns and outreach events will help equip the city for a potential outbreak.
CNN reports that officials San Diego, California have revealed very "few specifics" on how they intend to combat the disease. San Diego County spokesman Michael Workman provided general initiatives, saying, "We have been working to educate the public, the medical community and our community partners about Zika, and ways to prevent contracting it."
The federal government has committed funds to Zika-fighting efforts nationwide. This Tuesday, the CDC's $14 million was distributed "based on their risk of Zika virus transmission, population need, and availability of funds." Though thus far Zika has only been found to have been transmitted locally in Florida, cities all around the United States are erring on the side of caution by reducing local mosquito populations and encouraging repellants, so that if Zika does spread, said spread is controlled and managed.