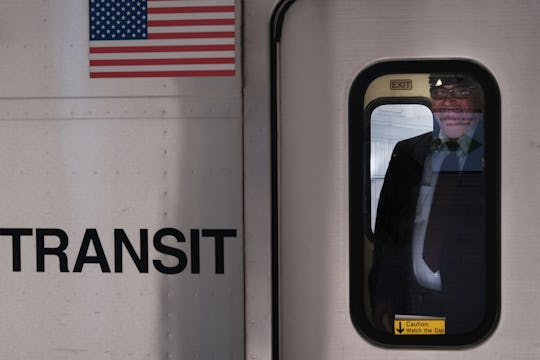 Spencer Platt/Getty Images News/Getty Images
What Caused The New Jersey Train Crash In Hoboken? Passengers Say It Ran Into The Station
A New Jersey Transit train crashed into the station in Hoboken on Thursday morning, according to the New York Daily News. Passengers are sharing photos on social media of a train that reportedly barreled right into the station, but it's unclear exactly what caused the New Jersey train crash in Hoboken at this time. One Twitter user going by "Sully" wrote that the train "blasted through a wall after going off the tracks." The crash appears to have occurred just before 9 a.m., and photos show a train partially inside the building. NBC New York has reported "mass casualties" resulting from the incident.
All PATH and New Jersey Transit service in and out of the station has been suspended, according to CBS New York, and New Jersey Transit buses are honoring train tickets and passes. According to The Jersey Journal, there have been "dozens of injuries," but an exact number isn't yet known. CBS New York points to the timing of the accident as the reason that there were so many victims; the crash occurred during rush hour. Early estimates were that 20 to 30 passengers were injured, and first responders from "all over Hudson County" are on the scene. There is no indication of sabotage.
The plexiglass roof of the platform has partially collapsed due to the force of the crash. Witnesses report that the train did not slow as it approached the terminal. Transit police are currently investigating the cause of the accident. The Federal Railroad Administration and National Transportation Safety Board are on the way to the scene, according to NBC New York.
A temporary bus stop has been established at Washington Street and Observer Highway, according to the City of Hoboken's official Twitter account. The New York Waterway Ferry is honoring all bus and rail tickets. Traffic in the area of the station has reportedly reached a standstill.
Passengers are reporting that those in the first two cars suffered the most severe injuries; many were standing as they prepared to exit the train. Others sustained minor bumps and bruises. ABC News has reported that "more than 100 people were injured," per New Jersey emergency's management system, and three fatalities have been confirmed by NBC New York as of 10:10 a.m.. New Jersey Transit spokesperson Jennifer Nelson would not speculate on the cause of the crash or the speed of the train, but did confirm that there were "100 plus" injuries, and many were critical injuries. It may be quite some time before a cause is established.