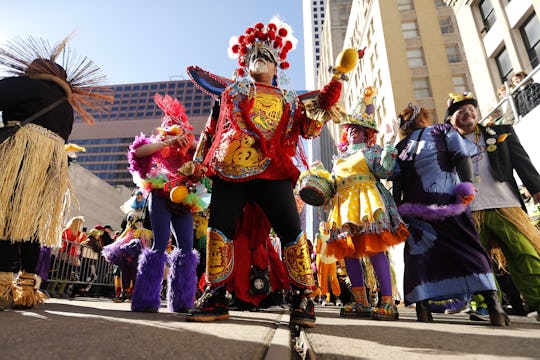 Jonathan Bachman/Getty Images News/Getty Images
What We Know About The Mardi Gras Truck Accident
In the midst of happiness and celebration in New Orleans, Louisiana, tragedy occurred. During a parade in celebration of Mardi Gras, a truck drove into a crowd of people, shifting the night's tone and turning the atmosphere somber and grim. Just hours after the incident occurred, people are searching for answers to questions, including looking for what may have caused the truck accident at the Mardi Gras parade. With a suspect now in custody, the victims of the very scary accident just might get the answers they deserve.
The scene was a terrifying one, according to CNN: According to officials, a truck rammed through a crowd of people injuring at least 28 people and seriously injuring five others — although, according to The Times-Picayune, none of the injuries were life threatening. Authorities stated that the pickup truck hit two cars and then ran into the crowd of people just trying to watch the parade, around 6:42 p.m. local time. This accident caused the parade, one of New Orleans' biggest, to pause for 10 minutes, according to The Times-Picayune. Reuters also reported that the cops took one man into custody for questioning related to the accident shortly after it happened; Police booked 25-year-old Neilson Rizzuto after reportedly finding him "highly intoxicated" immediately after the accident.
According to Reuters, Rizzuto was charged with two counts of vehicular negligence injuring in the first degree; hit and run driving; and the reckless operation of a motor vehicle. The official cause of the accident is not quite clear, just yet. However authorities believe one thing to be certain — that the crime is not linked to terrorism. According to CNN, Police Chief Michael Harrison said that there is "no indication" that this terrifying act was an act of terrorism, and according to CBS News, an official at the Department of Justice also said that there was "no suspected link" to terrorism.
The FBI is reportedly working with federal, state, and local law enforcement to determine if a "federal violation" occurred. While the accident might not be linked to terrorism, according to The Daily Mail, Harrison said that the accident looked like a "case of DWI." As for the suspect, one bystander reported that the they appeared to be "just kind of out of it" at the time of the accident, according to CBS News.
Hopefully the victims and witnesses will be granted more answers soon. For now, authorities appear to be getting at least a few.