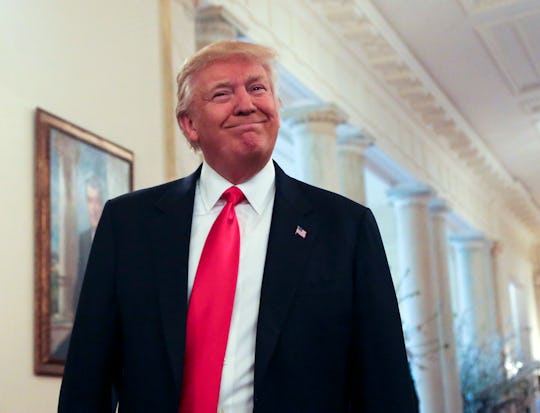 Pool/Getty Images News/Getty Images
What Channel Will Trump's Unofficial SOTU Be On?
Trump's first address to a joint session of Congress is Tuesday night, around 9 p.m. Eastern Time, and he has said he will, "speak from the heart and say what I want to do," the 45th president said during an interview broadcast on Fox & Friends. Despite how it's being presented, it won't technically be his first State of the Union address, because traditionally, a president of the United States has to be in office for a year before they give their first SOTU. It is likely to be an event heavily covered by the media, so what channel will Trump's joint address to Congress be on? Well, there are options.
When Trump makes his way into the House chamber Tuesday night, he has stated he will talk about plans to replace Obamacare, and it's expected he will also discuss the campaign promises he's fulfilled so far, such as pulling out of the Trans-Pacific Partnership trade deal. It may also act as a much-needed boost for the newest president, who, in a new NBC/Wall Street Journal poll published on Sunday, has only a 44 percent approval rating. Perhaps the "big statement" he has said he will make in regards to his plans to rebuild the nation's roads and bridges will help.
So what options do we have to watch the address? As it turns out, there are many. The PBS NewsHour team will have guests on, and facilitate a studio discussion from 8-9 p.m. Eastern Time, followed by analysis until 11 p.m. It will also have a live stream available to watch at 9 p.m. Eastern Time online.
According to CNN.com, "CNN's coverage of President Trump's Address to Congress and the Democratic response will be streamed live in its entirety to CNN.com's homepage and across mobile devices via CNN's apps for iOS and Android," and that will start at 8:00 p.m. Eastern Time Tuesday, running through midnight. Coverage should be available on CNN's TV channel on cable, satellite, etc. starting at that time as well.
Fox News Channel's "special coverage" of Trump's address begins at 8:50 p.m. Eastern Time, according to its website. The channel will likely have some sort of coverage online as well as on television. NBC News will be streaming the event on nbcnews.com, and also on YouTube, Roku, FireTV, and AppleTV. If that's not an indication of how technology has changed the way we consume news, I don't know what is!
Rachel Maddow, Brian Williams, and Chris Matthews will lead MSNBC's prime time coverage beginning at 8 p.m. Eastern Time. Nicolle Wallace, Steve Schmidt, and EuGene Robinson will join the panel, and the team will continue live programming immediately after President Trump's address, and, along with NBC, will also broadcast the Democratic Party response after the event.
ABC News will broadcast special coverage of President Trump's first address to the joint session from 9 – 11 p.m. Eastern Time. George Stephanopoulos will lead coverage from Washington, with David Muir, Martha Raddatz, Jonathan Karl, Byron Pitts, Cecilia Vega, Tom Llamas, and Matthew Dowd, all joining in on their coverage in various ways. It is likely to be available on ABC's website with a live stream as well.
CBS News will broadcast live coverage of the address to Congress and the Democratic response from 9 – 10:30 p.m Eastern Time on CBS TV. According to their website, "CBSN will broadcast a live video stream" as well. It's probably a safe bet that most major news networks will have some sort of online option for viewers.
If you're a cord-cutter, there are other options to watch the address as well. Some cable-replacement services like Sling TV, PlayStation Vue and DirecTV Now have options to watch most of the major news networks. An HD antenna is an option for some as well, as long as you can get a signal.
According to some accounts on Twitter, Trump is taking advantage of his first address to a joint session of Congress by fundraising off of it. MSNBC Producer Kyle Griffin tweeted an email he got a hold of, with Trump and his team asking his supporters to donate before the address Tuesday night.
Trump seems pretty sure it's going to be a great speech, with a "message of optimism, hope, and love for the greatest country in history." Sounds like something you won't want to miss out on.