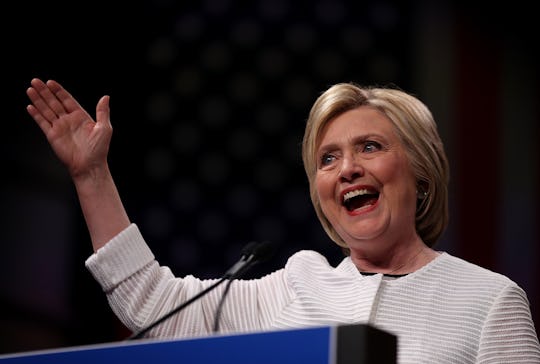 Justin Sullivan/Getty Images News/Getty Images
What Did Clinton Say About Obama's Endorsement? Her Response Was Classic
On Thursday, just after presidential candidate Hillary Clinton clinched the position as the presumptive nominee of the Democratic Party, President Obama endorsed her for president. In a video released by Hillary For America, he said, "I'm with her." The announcement came just hours after the president met with Vermont Sen. Bernie Sanders, Clinton's opponent. So, what did Hillary say about Obama's endorsement? Her response was a reference to Obama's own presidential campaign. In a tweet, she wrote, "Honored to have you with me, @POTUS. I'm fired up and ready to go! -H."
While Obama's endorsement has been a long time coming, it still is an amazing reversal of roles and testament to perseverance. Eight years ago, Obama and Clinton were rivals before she lost in the primaries and joined his campaign. When he won, he appointed her Secretary of State. Now, they'll be campaigning together again, but this time for Clinton.
In his video endorsement, Obama said, "I don't think there's ever been someone more qualified to hold office," and he would know. Clinton's legal education and roles as the First Lady, a state senator, and the Secretary of State fill out one of the most impressive resumes public service has ever seen. That experience puts her in very stark contrast with her now-rival, real estate mogul Donald Trump. Though he is now the presumptive nominee of the Republican Party, he continues to be criticized by members of that party and has never held public office.
Obama went on to say, "Look, I know how hard this job can be. That's why I know Hillary will be so good at it." It didn't take Clinton long to respond. She used Twitter to virtually high-five Obama.
Her message of being "fired up, ready to go" is not only funny, but it's also a longstanding reference to Obama's campaign for president, and Obama and Clinton's history of campaigning together. "Fired up! Ready to go!" became Obama supporters' motto eight years ago when he was making his bid for the White House. Since that campaign, the two have remained close allies.
Of course it wouldn't be long before Trump piped in as well, and he did. He tweeted his response to Obama's endorsement, once again invoking his favorite epithet for the presidential candidate, "crooked Hillary."
In his tweet, he repeats a common Republican chorus that electing Clinton would mean four more years of an Obama administration. Clinton may be a supporter of Obama, and she may share many of the same values, but during the course of these primaries, and in the months to come, she will continue to prove that she has her own ideas...
... and Obama-worthy mic drop moments.