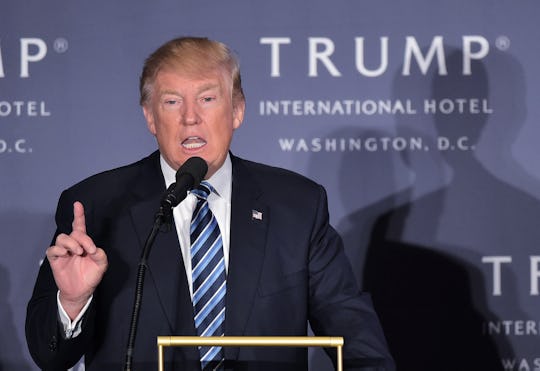 MANDEL NGAN/AFP/Getty Images
What Did Donald Trump's Letter About Kelly Preston Say? It's Horrible
Republican presidential nominee Donald Trump has had no shortage of negative news surrounding his run for presidency. The election cycle has been exhausting, to say the least, and controversy surrounding Trump seems never-ending. And now Mother Jones has uncovered an old blog post about Kelly Preston, reportedly written by Trump, which only adds fuel to the fire for many voters disturbed by some of Trump's problematic comments and actions. So, what did Trump's letter about Preston say? The letter is disturbing.
According to Mother Jones, in 2009 Trump reportedly published a blog post on the website for what used to be Trump University, on what was supposed to be a letter expressing his condolences to Preston. Preston and husband John Travolta's son, Jett, died in 2009. It's an unspeakable tragedy and nightmare for any parent. So what did Trump do? He used that opportunity to recall on a time he, unsuccessfully, hit on her.
Here's his full post, captured in an archive and cited by Mother Jones:
I have always respected people who were loyal and faithful--which brings to mind Kelly Preston. A long time ago, before I was married, I met Kelly Preston at a club and worked like hell to try and pick her up. She was beautiful, personable, and definitely had allure. At the time I had no idea she was married to John Travolta. In any event, my track record on this subject has always been outstanding, but Kelly wouldn't give me the time of day....
The post continued:
...She was very nice, very elegant, but I didn't have a chance with her, and that was that.When I later found out she was married to John, I liked and respected her even more. Some people have values that matter to them, and she is one of them. Her loyalty was unwavering and I have always remembered that about her. Being true to someone is very close to being true to yourself. That's a valuable attribute in today's world. I'm sure she was a wonderful mother to Jett and my thoughts are with her and her family after their terrible loss.
It might be possible that there are too many problems with this misogynistic, self-centered, insensitive blog post to unpack. Not only is the letter terribly insensitive, it appears Trump may have possibly been trying to compliment Preston in such a difficult time, by sharing that he "worked like hell to try and pick her up." He noted that she wouldn't give him the "time of day" – despite his incredible "track record" (can't leave that out). And with the recently-leaked recorded conversation he had with Billy Bush in 2005, that "track record" he speaks of is all the more disturbing.
What's more, Trump noted that he "liked and respected her even more" once learning Preston was married to Travolta. Evidently, he holds women to high standards for possessing "loyalty" that's "unwavering" in their marriages. But his past shows he doesn't appear to hold himself to that same standard.
At the end of the post – after it focused on Trump's alleged sexual advances towards Preston, and his stellar "track record" – a line detailing his condolences for Preston finally appeared.
It continues to be a long and tiresome election.