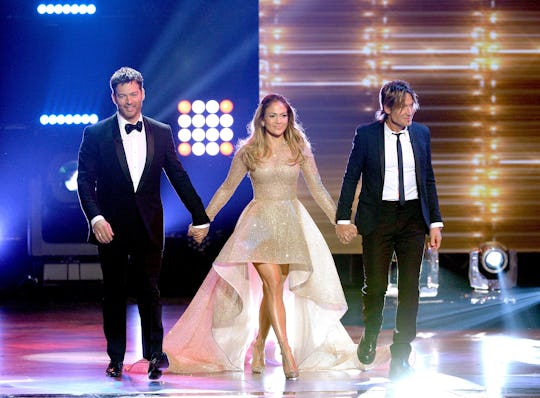 Kevork Djansezian/Getty Images Entertainment/Getty Images
What Do The 'American Idol' Judges Think Of La'Porsha Losing? They've Always Supported Her
The finale of American Idol did a lot of damage to my emotions. First, almost every Idol contestant worth noting returned to the stage to perform. Then, all of the original judges came home — the stage being their home, of course. Then, it was revealed that La'Porsha Renae lost American Idol, after all of these weeks thinking she was a shoe-in. So, you can confidently say I am a wreck. I am not alone here, since I know that I'm not the only one who thought that she would win. Heck, on Wednesday's show, Jennifer Lopez thought that La'Porsha was going to win the whole thing. So, what do the American Idol judges think of La'Porsha losing?
The judges on American Idol have always been supportive of La'Porsha. In fact, there was a point in the competition that I thought they were almost too supportive. Week after week, the Idol judges sang La'Porsha's praise — excuse the pun — to the point where some Twitter users started to get annoyed with the fact that she could do no wrong in their eyes. Even when she flubbed the lyrics on one of her songs, the mistake went unnoticed. Unfortunately, it is small things like this that create a unity against La'Porsha, which could have ultimately led to her losing the show.
Unfortunately, this was one round of voting that the judges couldn't do much about. On Thursday, they were fans, not judges, which allowed them to actually sit back, relax, and enjoy the show — if you call a five minute dance routine to "Let's Get Loud" relaxing. The judges haven't spoken out about La'Porsha's loss, yet, but surely they'll have a comment in time.
This post will be updated as information comes in...