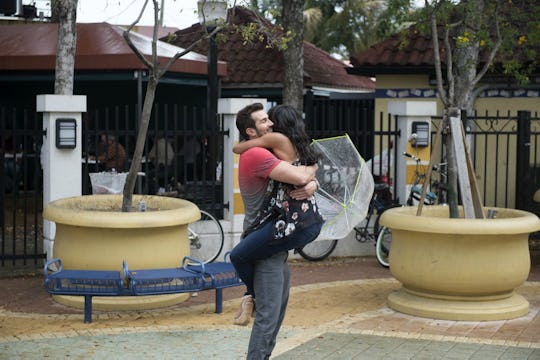 Rodrigo Varela/ABC
Bryan Has No Regrets About His Time On 'The Bachelorette'
Did anyone really think Bryan was going to make it so far on The Bachelorette? Whether or not he was in your Final Four bracket, Rachel definitely seems to like him, and she's going home to meet his family. So what does Bryan think about The Bachelorette and his chances of winning? Judging by his social media accounts, he was really on the show for all the right reasons and if you don't see what Rachel sees in him yet, his fun, carefree attitude on Instagram might explain it.
He seems like a very nice, down-to-earth type of guy — a man worth a luxury watch, if you will. On Instagram, he's been constantly posting behind the scenes photos of him and the other men in the house. There are also date selfies with Rachel, like one taken in Geneva, which he captioned, "Big thanks to @therachlindsay for taking me on one of the greatest dates of my life!"
And he has a sense of humor about some of the #DRAMA that went down this season. Like stills from the cocktail party, where he teases Kenny about wanting to fight Lee. Also, he and Will seem to have become fast friends — there are pictures of them hanging out even after the show wrapped, which is actually pretty adorable. I mean, just check these two out.
The Bachelorette BFFs
Plus He Knows How To Laugh At Himself
He's Grateful For The Experience
No Drama Bryan
Overall, it seems like Bryan had an amazing time on the show. But he does keep calling it a "life changing" experience. Although he could just be talking about the 15 minutes of fame that most Bachelor Nation contestants get while the show airs ... could he be The Winner?
His mother is super intense though, and Rachel doesn't seem like the kind of woman who enjoys turmoil. During the hometown dates, Bryan's mom tells Rachel, "If he's happy, I'm happy. If not, I'll kill you." Yikes. That whole story Bryan told Rachel about his ex-girlfriend skipping town because of some issue with his mother now makes total sense. Is Rachel ready for that?
Maybe the fun she has with Bryan is worth it. During the hometown date, they head out on the town in Miami. They go out in Calle Ocho, eat Columbian street food, and salsa dance. These two always have a good time — and judging from his Instagram account, it's totally authentic.
Whether he wins or not, Bryan seems to love The Bachelorette and has made the most out of the whole experience.