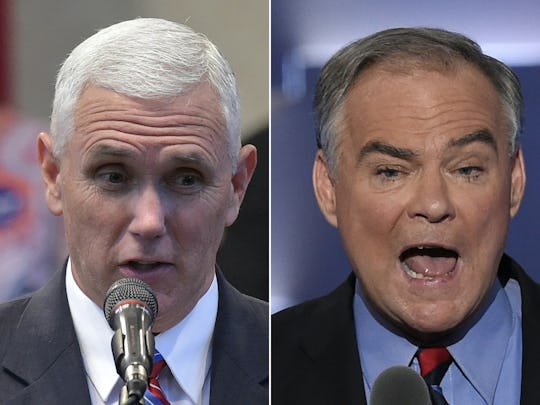 MANDEL NGAN/AFP/Getty Images
What Does It Mean If Tim Kaine Wins The Vice Presidential Debate? It's Crucial For Clinton
Virginia Sen. Tim Kaine and Indiana Gov. Mike Pence are set to face off Tuesday night in the first, and only, vice presidential debate being held in the run up to the November elections. Both men are experienced politicians with their own personal styles and policy positions, and both will show up to the debate with work to do in helping shore up support for their respective running mates. What happens if Time Kaine wins the vice presidential debate? Kaine could hold off attempts by Pence to make Trump seem more like a traditional candidate, while slamming Pence for his hard line social conservatism and painting him as out of touch with mainstream America.
Pence is already walking into the debate with the gargantuan task of trying to explain, and make sense of, some of Trump's more recent controversies, including his sexist attacks on 1996 Miss Universe Alicia Machado, the release of his tax records, which paint a picture of a floundering businessman with a penchant for evading taxes, and uninformed comments he's made recently like Monday's jaw-dropper when he blithely suggested veterans with PTSD aren't "strong." Trump's campaign hasn't responded to requests for comment regarding any of those subjects.
And those are just the most recent gaffes it will be up to Pence to try and deal with. Tough job.
For Kaine, the task is to try and continue the momentum former Secretary of State Hillary Clinton gained following the first debate and trying to help her seem more likable and trustworthy, character issues that have dogged her entire candidacy. In a poll last month from Bloomberg, only 27 percent of respondents gave Clinton an "excellent" or "good" rating on her truthfulness, compared to 37 percent for Trump, according to the Washington Post. It will be up to nice-guy Kaine to try and convince debate watchers that Clinton is trustworthy.
Kaine told CNN he will try and tie Pence's conservative stance against the LGBT community, reproductive rights for women, and other issues to Trump during the debate, using both men's positions as an argument that they won't represent mainstream America. For instance, Pence once wrote in a letter to the editor of the Indianapolis Star that kids who have a mother who works outside of the home will have "stunted emotional growth," according to CNN.
These are critical issues in an election increasingly being defined by a battle for women voters, according to USA Today. Kaine said, according to CNN:
I've been in elected life for 22 years, it's not knowing another fact, but it is about thinking hard about the material, thinking hard about Pence's record, and also what Pence's record would say about the guy who chose him, since it really is more about Donald Trump than it is about Gov. Pence.
And for Clinton, Kaine is an ideal surrogate to lend a little credibility to her candidacy. "He emanates a decency that is often lacking in modern politics," Lis Smith, a Democratic political operative, told NBC News. Anyone who watched Kaine's speech at the Democratic Convention has already seen this decency on full display. No word on whether Kaine plans to resurrect his Donald Trump impression that made headlines from that speech.
Here's a little taste in case you missed it.
If Kaine can pull off painting Pence as an out-of-touch right winger and keep him off balance long enough during the debate to stop him from helping Trump seem less unhinged, Kaine will have done his job. And if he can make Clinton seem a little more friendly in the process, all the better. If Tim Kaine wins the Vice Presidential Debate it will keep Clinton's mojo going into the election home stretch.