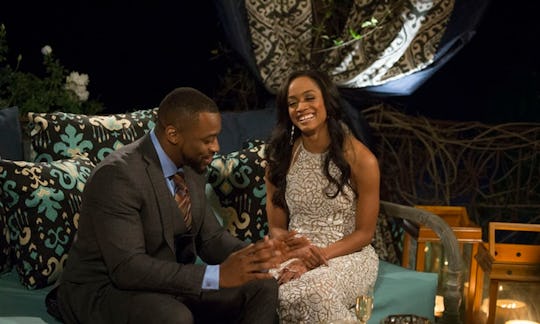 Paul Hebert/ABC
Kenny & Lee Will Come Face-To-Face At "The Men Tell All"
Since The Bachelorette isn't a show like Bad Girls Club, there are very rarely physical altercations, if ever at all. So instead of that, you have season-long rivalries that rely on trash talking and constant arguments. That's what Lee and Kenny's own dislike for each other boiled down to this season, but now that it's over for both of them, what does Kenny think of Lee after The Bachelorette? The contestants clearly didn't like each other on the show, and now you've got to wonder where they stand.
While the not so great side was brought out in both of them, Kenny prevailed in staying on The Bachelorette longer in an effort to make a lasting connection with Rachel. Kenny also prevailed in keeping a clean social media history. Unfortunately, Kenny didn't stay much longer and eventually he and Rachel decided his time was better spent at home with his daughter. Now that it's all over though and he can probably see clear again, it's only natural to wonder what Kenny thinks of Lee after The Bachelorette and if he still harbors any ill will.
On Twitter, he's already retweeted tons of fans who claim to be #TeamKenny on the whole matter and posted a gif of himself smirking when Lee still got a rose one night. "Apparently I re-invented side eye last night," he tweeted. "This is what it would look like if the phrase "foh" was a human in a suit." But he also owned up to his own habit of egging on Lee, the passive aggressor.
This doesn't seem to be one of those instances where two rivaling contestants become friends after the fact, but Kenny is also enough of an adult to not feel the need to put anyone on blast on social media. Of course, the real test will be when Chris Harrison brings everything up at the Men Tell All special, but for right now, it seems like Kenny hasn't lost much sleep over Lee or their indiscretions while on The Bachelorette together.
Backstage at the Men Tell All taping, Kenny spoke with fellow Bachelor Nation member and Access Hollywood correspondent Ashley Iaconetti and basically said the taping was about trying to get closure.
"Everybody needs to walk away from here feeling as though they didn't hold anything, that we can leave everything here," he told her. And it sounds like he and Lee were able to talk about things, along with other guys who came forward to show Lee how his actions were perceived, in order to kind of squash the beef.
And, silver lining, Kenny and Lee don't really have to see each other anymore, so if their interaction on the Men Tell All special was the last they'll ever have, it was likely the best ending for them.