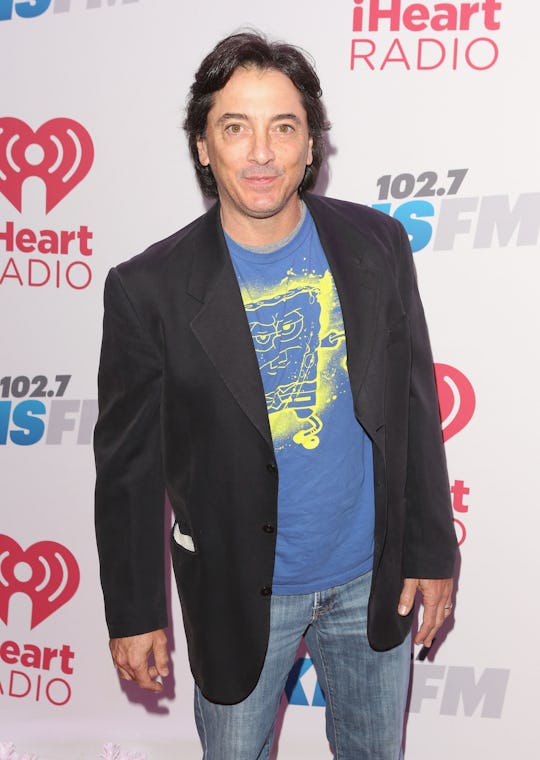 Jesse Grant/Getty Images Entertainment/Getty Images
What Does Scott Baio Think Of Donald Trump? He's Practically His Number One Fan
When conservatives and liberals alike tune in to the Republican National Convention this upcoming week, they'll see much of the same stuff as they have at every convention over the past years. They'll see the presumptive nominee, Donald Trump, accepting the nomination; the nation's Republican delegates in the crowd, anxiously awaiting the announcement; and Scott Baio taking the stage to give a speech. Wait — Scott Baio? Yes, Scott Baio. By now, you don't even have to bother asking "what does Scott Baio think of Donald Trump," because a simple Google search will show that Baio loves Trump.
Scott Baio loves Donald Trump so much that he's slated to give a speech in his honor at the Republican National Convention in Cleveland, Ohio on Monday night. According to Philly.com, on Saturday night, Baio took to Fox News to announce that he was "personally selected by Trump to speak at the Republican National Convention."
If you need a refresher on who Scott Baio is — don't worry. Baio is perhaps known best for his television career, starring as Chachi on Happy Days and Charles on Charles In Charge, as well as starring in his own reality show on VH-1 in 2007 called Scott Baio Is 45...and Single. But now, Baio is returning to television to endorse Trump — a man of whom he apparently thinks very highly.
Baio first endorsed Donald Trump back in March, singing Trump's praises during a visit with Fox News. Baio told Fox News' Judge Jeanine Pirro that he was "fed up with Republicans" but believed in Trump's abilities.
"It's very simple because when he speaks I understand him," Baio said. "He speaks like I speak, he communicates with people very well. I want him, as any one person can do, to go into Washington and blow it up."
In April, Baio continued to advocate for Trump's proposed policies and admire his speaking. "...I like his proposals on reforming the tax code, building the wall, immigration, repealing Obamacare," Baio told Fox News. "I think he's a straight shooter when he talks to me."
Baio is among the likes of John Voight, Dennis Rodman, Mike Tyson, and many more celebrities who have endorsed and supported Donald Trump for president.
So what will Baio's speech to the RNC be about, exactly? No clue. According to Philly.com, Baio told Judge Jeanine on Saturday that he doesn't know exactly what he will be speaking on. However, Baio did say that he will be speaking at the convention on Monday night at 8 p.m. ET. Where can you watch Baio's speech? CBS News will be airing one hour of coverage each night of the convention, so you're in luck. Fox News Channel and FoxNews.com will also present live coverage from the event, directly to each outlet, and CNN will be covering the week's events live as well, so you can tune in over your TV, or using a Sling account. Whatever the case, I'm sure Baio's speech will end up online somewhere after it airs, so even if you miss it, you'll likely be able to catch it later.
His speech will undoubtedly be a memorable one, but remember that Baio is practically Trump's number one fan. So take it all with a grain of salt.