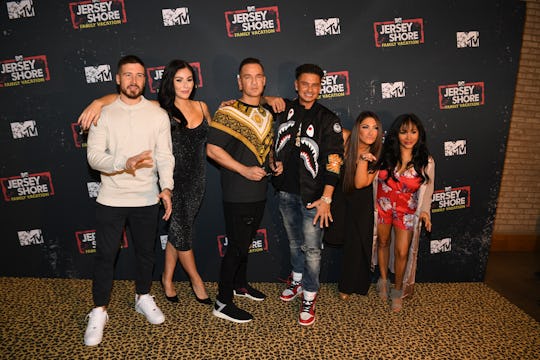 Dave Kotinsky/Getty Images Entertainment/Getty Images
The 'Jersey Shore' Cast Is Sticking By Ronnie During His Relationship Drama
Jersey Shore Family Vacation Season 2 is just a few episodes in, and already the Ronnie Ortiz-Magro drama is at an all-time high. He and on again/off again girlfriend Jen Harley's relationship is a huge talking point this season and, as seen in the first couple of episodes, things were pretty intense for the couple during filming. But what does the Jersey Shore cast think of Jen Harley now? It's hard to keep up with Ronnie and Harley's relationship both on and off the show and keep track of whether they're together or not. However, it would appear that his fellow castmates support him no matter what. And that means supporting his relationship with Harley, even when things aren't so great.
Some of the Jersey Shore cast spoke with Us Weekly recently and essentially agreed that if Ronnie is on speaking terms with his baby's mother, then they sort of have to be. "It puts us in a weird position, you know, when your friend has somebody and you see that significant other's treating them bad, you're like, you have to like this person because they're going to be back with them, that's how we are with her," Paul "Pauly D" DelVecchio said. "She's treating him like this, we have to like like her, if he likes her. It's just a weird situation, but it's not for us to really like, it's for him. We support Ronnie. 100 percent."
Jenni "J-Woww" Farley agreed with Pauly D's sentiment. "I always say, 'If Ron likes her, we like her.' Whatever emotion he's on," she added.
Fans might recall the series of public fights throughout the summer that began shortly after Harley and Ronnie's daughter was born in April. The couple have become known for broadcasting their fights on social media and being candid about their feelings for each other, good or bad. There have been some definite highs or lows among all of the alleged fights and breakups throughout their relationship. As seen on social media and, eventually, in the news as well.
Right now, though, it looks like Ronnie and Harley might be making a big move together rather than separately. They've both been posting photos with the other on their respective Instagram accounts and recently, Ronnie posted in his Instagram stories about selling their newly built home. On the one hand, it could have to do with yet another blow up between the two, but since just a day ago, Harley posted a photo of herself with Ronnie, it could mean that the pair are moving elsewhere with their daughter.
Despite Ronnie and Harley's sometimes tumultuous relationship and their very public ups and downs, the Jersey Shore cast remains supportive of him either way. "We've all taken turns giving him some awesome advice, and we're proud of him," Mike "The Situation" Sorrentino told Entertainment Tonight.
Vinny Guadagnino added, of Ronnie and Harley, "We support him, we support them, we love them."
Even on Family Vacation this season, Ronnie's fellow cast members and Shore family have made it clear that their allegiance is with Ronnie, even if they don't always agree with his actions. During one of Ronnie and Harley's on-screen fights this season, JWoww even told Ronnie to fight for his rights for his daughter and that if he didn't want her associating with Harley anymore, then she would cut ties with her. Clearly, the Family Vacation cast has mastered the art of loyalty. And even if Ronnie's on again/off again relationship with Harley is hard to keep tabs on, the cast seems to be ready to support Ronnie no matter what.